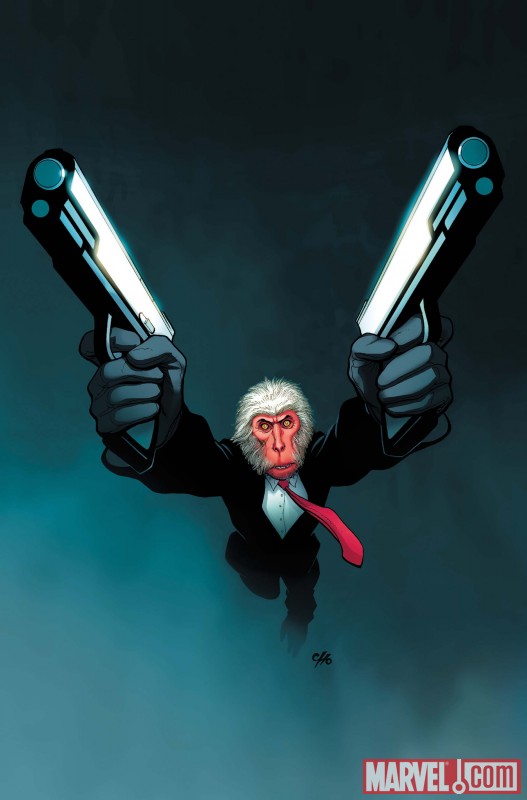 I'm sure all of you were sitting patiently curiously awaiting to find out more about marvel's hottest new character, the Frank Cho drawn Hitman Monkey.
Well, as of 12:33 the world of comics as we know it changed. Sure there have been lots of great comic book apes; Rex Mantooth, Mallah, Gorilla Grodd and Gorilla Man – but this one is going to be different.. because… well, because… Well, you know what? I'm going to let Marvel explain why:
Fans will get a chance to properly meet Marvel's newest star, Hitman Monkey, in a special two-part Marvel Digital Comics Exclusive beginning this December, courtesy of writer Daniel Way and artist Dalibor Talijic, all wrapped in a gorgeous Frank Cho cover. This will mark the historic first time a character has debuted through Marvel Digital Comics Unlimited.

"Hitman Monkey is a soulful, tortured, jazz-loving 30-pound engine of destruction," explains Executive Editor Axel Alonso. "Think Chow Yun Fat from 'The Killer' as a monkey. To be specific, [a Japanese Macaque] monkey."

The character's origin will incorporate a number of different elements, ranging from the comedic to the dramatic.


"Let's be clear: HITMAN MONKEY is the harrowing tale of a Macaque monkey from the mountains of Japan who, though fate and circumstance, is transformed into the world's deadliest assassin," Alonso continues. "I fail to see what could be funny about-oh. I see your point."

When asked how he feels Hitman Monkey's appearance in a Marvel Digital Comics Exclusive will help build anticipation for the character's appearance in February's DEADPOOL #20, Alonso sees at least one simple reason:

DEADPOOL #20
cover by
Jason Pearson

"The fact that our protagonist is a monkey won't hurt."

Going back to the character's genesis, Alonso re-enacts a conversation he had with writer/creator Daniel Way on Hitman Monkey's design.

"Daniel Way [said] 'I'm thinking Spider-Monkey,' [and I responded] 'In a sharply-tailored black suit?' [He said] 'Yep.' Frank Cho added the gloves and colorist Jason Keith added the red tie. It's a wrap."

Once Hitman Monkey does make his way into the pages of the Merc With a Mouth's own book, Alonso promises that "Deadpool and Spider-Man will never know what hit 'em. Hitman Monkey is a skilled martial artist and crack shot, plus he's got mad hops. He is really good at what he does-one might even venture to say, he's the best there is at what he-Wait."

Looking towards the future, Alonso also expects big things from Hitman Monkey in the coming year.
Personally I'm not crazy about Daniel Way, he's a decent writer, but I've never found anything that's really blown me away by him, and with all the amazing apes out there, i'm not sure if there's any more room in this heart for another hyper violent ape. Especially since Matt Fraction has been hinting that we might be seeing more Rex Mantooth in the future..
but who knows, maybe they'll have all the gravitas and pathos that this image truly does: