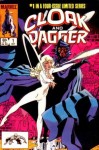 The Hollywood Reporter says Marvel Television (a division of Marvel Studios) is planning to develop a new Hulk TV series with the ABC TV network.
Marvel TV boss Jeph Loeb has hinted that a Cloak and Dagger TV show is also being planned.
The Hulk of course will be able to draw off an existing fan base garnered through a successful comic title, high exposure feature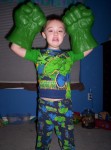 film releases, the nostalgia of the old Bixby/Ferrigno TV show (1978-82 on CBS), successful toy lines and lots and lots of kids that go to bed in Hulk pajamas. Cloak and Dagger… well they had a 4 issue mini-series back in 1983 that nobody read, and then they had a second series (lasted 11 issues) in 1985 that even less people read.
The Hollywood Reported article states that Loeb is meeting with writers to hear ideas for Cloak and Dagger. He should invite some magicians, though it appears he already has enough clowns.