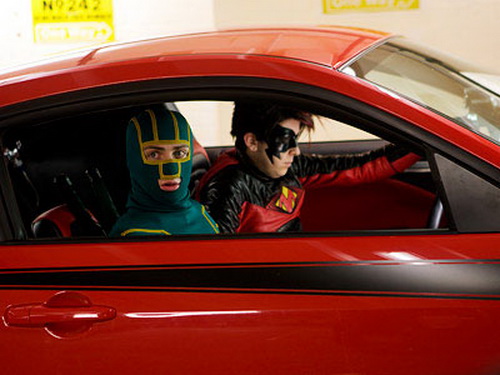 Looks like the crew at Variety have gotten a sneak peek at the Kick Ass Movie and put up a review of the movie which can be found here. Some interesting features of note in the review include:
As Dave, Johnson (a young Brit soon to be seen by U.S. auds as John Lennon in "Nowhere Boy") makes a reasonably credible and thoroughly ingratiating transition from enthusiastic klutz to self-empowered hero, while Mintz-Plasse amusingly plays Chris as a kind of darker, more dangerous variation of the McLovin' character he memorably essayed in "Superbad." Mark Strong, recently a seriously menacing villain in "Sherlock Holmes," brings the right touch of wink-wink overplaying to this pic's antagonist. And Cage earns some big laughs as he channels the smiley spirit of several '50s TV sitcom dads while teaching his daughter how best to kill miscreants.

Fans of Mark Millar and John S. Romita Jr.'s original comicbook series — the sort of savvy aficionados who will catch all the inside jokes about Steve Ditko, the Spirit and other graphic-novel icons — might complain about certain liberties taken by Vaughn's adaptation. (The motivation for Cage's character is substantially different here, and pic allows Dave more romantic success than the comicbook ever did.) According to the press notes, however, scripters Vaughn and Goldman began and completed their scenario before the comicbooks ever wrapped up their ongoing storyline."
The bits about insider jokes? Love it. McLovin? Even more so. liberties with the the plot though? Not so much. I've got flashes of Millar's Wanted coming to mind.