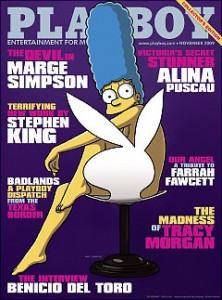 No longer do those with cartoon fetishes have to troll through various seedy forums to find paint shop versions of nude pictures of Marge Simpson – and you have Hugh Hefner to thank.
Playboy magazine is turning over its cover to the matriarch of Springfield's first family: Marge Simpson for its November issue.
It's a first for the magazine, which has had everyone from Marilyn Monroe to Cindy Crawford to Darva Conger (she was the girl from "Who Wants to Marry a Millionaire?"). But it's never had a cartoon character before.
Marge has previously appeared in Maxim magazine, Playboy has previously appeared underneath your mattress. Marge's spread will feature 'implied nudity' and will ship October 16th.
This isn't the first for a cartoon character to appear nude for an adult publication. Hack/Slash's Cassie appeared on the Suicide Girls' website, and I used to draw pictures of a naked Wonder Woman for my elementary school friends for two bucks a piece.