According to Variety (from left to right), Stuart Townsend (from the Anne Rice film Queen of the Damned), Ray Stevenson (from Punisher: War Zone), and Tadanobu Asano (from Mongol) have been cast as the Warriors Three. The film is due out May 2011.
Sounds pretty good, I mean – has there ever been a more attractive man than Stuart Townsend? Oh.. uh… yeah, I mean, in my defense.. he's with Charlize Theron, and to match that pretty you have to be good looking so the idea of him playing Fandral the Dashing (after, apparently, Chuck's Zackary Levi backed out …which makes ..no sense) makes perfect sense.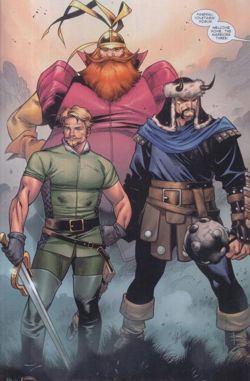 As for Ray Stevenson – this will be his second Marvel character, but will probably be his first success. As someone who absolutely loved Stevenson's portrayal of Titus Pullo in HBO's amazingly awesome Rome, I'm totally game. I mean – he's got to be playing Volstagg right? It's right up his alley.. pop him in a quasi-fat suit, or do some trick photography and he'll be great as the violence loving, beer drinking warrior.. I mean – if you watched Rome – it' won't be much of the stretch for the guy. I'm not super familiar with Tadanobu Asano – though I've read many reviews praising his work. I'm excited to see just what he'll bring in the role of  Hogun the Grim… maybe I'll rent Mongul tonight..
What are your thoughts? Good casting? Bad Casting? Who would you have chosen? email me here.