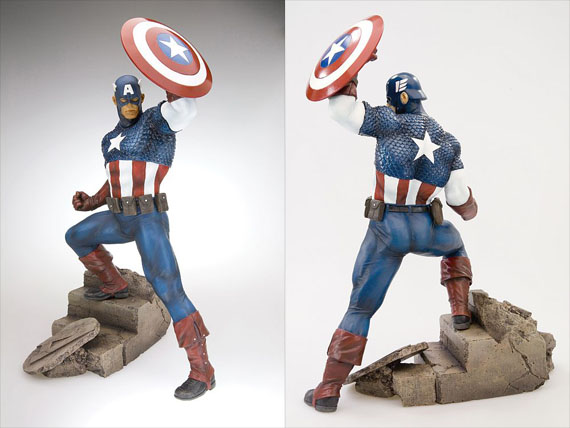 Joe Johnston, director of the forthcoming The First Avenger: Captain America, has been doing press all day out in Los Angeles for his new movie The Wolfman and ShockTillYouDrop.com Managing Editor Ryan Rotten had a chance to talk with Johnston about the movie and what to expect.
Johnston confirmed that the Red Skull will indeed be the villain of the first movie and told Ryan a bit more about why they decided to set the majority of the movie during WWII:
"Virtually the entire story except the bookends are in World War II because we all recognize we have one chance to tell the origin story of how he became Captain America, you can't tell a modern story and then go back and tell the origin story. If you're going to do it, let's do it. Let's do it first. Everyone wanted to tell an origin story. There was a version where it was a modern story and it didn't work."
Johnston did say that they definitely are going for an American actor, preferably an unknown, and they hope to have that person by the end of February.

The First Avenger: Captain America is currently scheduled for release on July 22, 2011.

and for more details about the suit and casting…

It's one thing to take Batman off the comic-book page and make his costume still look good in a live-action feature, but Captain America presents a far bigger challenge — the hero is essentially a walking flag, which might leave many average moviegoers giggling instead of saluting.

"The costume is a flag, but the way we're getting around that is we have Steve Rogers forced into the USO circuit. After he's made into this super-soldier, they decide they can't send him into combat and risk him getting killed. He's the only one and they can't make more. So they say, 'You're going to be in this USO show' and they give him a flag suit. He can't wait to get out of it."

That's a whole new concept and it's one that sounds pretty promising. "It was never in the comics," Johnston said, "because they didn't really need it. In comics, he puts on the costume and the reader just justifies because of the nature of the medium."
"Well, we're testing five or six guys," Johnston said. "The youngest is 23, the oldest is 32. Most of the guys in the war are just kids, 18 or 19, but we want to go a little bit older. We have to have somebody locked in before I leave March 1 for London."
A challenge, he said, is finding an actor that can play scenes as "98-pound-weakling" Steve Rogers and also pull off the brawny hero scenes, although some visual effects wizardry will come into play.