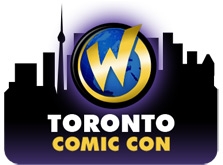 I love comic book conventions. I love walking up and down the aisles aimlessly looking at people dressed up, dealer's walls, looking for great deals and lining up to get sketches from artists. Well maybe not the lining up process so much.
The show got off to a bit of a slow start on Friday with the show opening at 4:00PM and many of the guests having yet to arrive and attendance being sparse. But that's to be expected as many of the media guests hadn't arrived yet. After touching base with the other Comic Book Daily guys, I set out to scope out the deals. For vintage comic dealers, the there were Wes Hagan, Paradise Comics, One Million Comix (Gerry) & Martin Lavalee. They had an arena for larpers to fight in: see the pictures at the end.
Saturday was a massive improvement in attendance over Friday as more guests arrived into town and the media guests began showing up at their tables. At noon, the show was packed with people lining up for photo-ops and sketches. Getting sketches from artists is always a high priority for me at these conventions and there were some decent names at this show. Wizard is pretty good at attracting talented artists to their shows. Greg Horn was one of the biggest names at the show but he wasn't doing any sketches. He did have a portfolio with some sketches for sale which went fairly quickly. I was tempted but the high price factor plus the fact that the majority seemed to be done on regular thin paper deterred me from making a purchase. Mitch Breitweiser was there with an incredible portfolio of his Captain America stuff. I snagged an Orson Randall commission from him for 100 bucks. I also got a Zatanna from Francis Manapul for $100 and Galactus piece from Agnes Garbowska for $35. Yanick Paquette was doing commissions for $180 for full figure, Jesus Merino was charging $80 for his sketches and had an amazing portfolio of reasonably priced covers including some Pacheco Final Crisis covers for only $500 bucks a pop. Phil Jimenez had a long line for sketches that just never seemed to dissipate. It was a pretty good show for the art collectors.
I like talking to dealers at every convention to see how the local market is doing. With only 4 real comic focused dealers there, I was curious how they would deal with much less competition than last year's show.
Martin Lavalee:
Marvin Lavalee is a smaller dealer that only sets up at the Paradise events. Most of his stock seems to be in the CGC bronze age stuff along with 1-2 long boxes of discount 2-3 buck stuff. For him, the Friday and Saturday sales were a big improvement over last year, with high grade moderns leading the charge, followed by lower grade bronzes at reduced prices. Most requested titles were Kick-Ass & Deadpool for the modern crowd and as usual; high-grade Spideys.
Wes Hagan: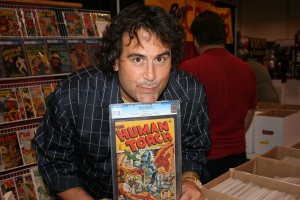 Wes was the second largest dealer of vintage stuff next to the Paradise crew. He didn't have his usual dollar and three dollar bins due to table costs. So he loaded up on his high-grade books in the 20-80 dollar bin stuff. He did have a better show than last year's by far, selling a good chunk of a nice 50's DC white paged Batman, Detective and Superman based collection. Other hot books included: low grade GA crime, high grade magazines with cover appeal, Dave Stevens covers and high grade Spideys from the 80's. As good as the show was for him; Wes did mention that he though the table costs were prohibitively expensive, with his setup costing him 1800 and while the lack of dealers might have given him a bigger slice of the pie, for the same reason the # of collectors might have been deterred from attending due to the low number of vintage dealers.
Trade fans were having a field day at the show. 30% seemed to be the magic discount with Pendragon, Heavy Mental & Paradise doing 30% off US cover on trade paperbacks which included a massive mix of old and new stuff. Paradise was also offering a 10 dollar giftcard with any purchases over 100 dollars. Conspiracy Comics was doing straight US cover on their trades. There was a good mix of toy, t-shirt and miscellaneous comic supplies as well.
With the increased number of non-comic guests, I feel that the show is trying to become more of a San Diego-esque convention. Not necessarily a bad thing, as it did bring in the crowds, but you could feel the impact on the show after the stars had left for the day. Dealers were reporting decent sales so if they can continue to grow the comic guest list and dealers, the show will continue to show some promise.
Misc things I learned at the convention:
Yanick Paquette: The delays behind this book are a combination of slowness on Grant and Yanick's part. Yanick does all of his work on a digital pad and his art process requires a whole lot of lead time that Grant Morrison just doesn't give him. On the Saturday morning, Grant had just e-mailed Yanick 12 pages of script for issue #5 when Yanick's deadline for the art is in 1 week…so yeah, expect some more delays for issue 5 unless they get a fill-in artist.
Francis Manapul: At his Q&A, Francis revealed that Jim Shooter isn't the easiest kind of guy to work with. Especially in regards to dynamic art panels. Jim's a fan of the old school wideshot in every single panel while Francis' prefers a little variety.