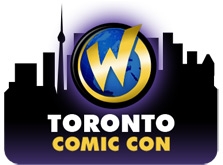 The second day of Wizard World's Toronto Comic Con was my first of the three day stretch, and already I have to say that this year's event is much better than the inaugural event last year. It was too spacious, did not have enough worthwhile guests, and although I respect professional wrestlers and what they do, there were too many of them. This year's show is in a smaller hall it seems, combined with more vendors, and a much more varied and altogether better guest list.
I would have to agree with Shelly though in that there are not nearly enough comic book vendors at the convention. There are plenty of places to perhaps find that rare trade you're looking for, and a few vendors such as Hairy Tarantula,  Paradise Comics or Pendragon are selling back issues. Each was scarce on recent material though, while there wasn't nearly enough memorabilia; I really wanted to find a couple of DC Universe Mattel action figures, but alas they were not to be found. Well, there was this one thing I found but I'd rather not talk about it because it gave me 75 reasons to pout. Ultimately there was a good variation of vendors, but not enough of them. If you're looking for something specific you may not find what you're looking for.
On the lighter side of things, I stopped by the Kill Shakespeare booth and chatted with Anthony, Conor, and Andy for a little amidst the literal droves of people stopping by to check out the booth. I'm looking forward to talking to them Sunday about recent events, issues, and what's next for them. Interviews with those guys are always fun. I also sat in on Francis Manapul's Q&A session earlier Saturday afternoon. The encounter was very laid back for the 45 minutes he spent fielding questions from fans on a variety of subjects from working with Geoff Johns, his earlier work with Top Cow, up to his desire to work with all-star writer Grant Morrison. On that note he offered a funny anecdote when he said he'd love to work with Morrison but wasn't sure if he would be able to understand his scripts. Overall Manapul held a great Q&A centred around breaking into the comic book business and even shared his aspirations to write later in the year.
Other than that, it was a fairly low brow day for me despite the bustling crowd of people. I chatted with local Toronto artist Marvin Law for a while, catching up with him for the first time since Hobbystar's Toronto Comic Con back in November. It was cool to chat with him for a few minutes and find out about his wrestling based web-comic which you can find here.
Sunday promises to be another decent day. I'll be talking to the guys from Kill Shakespeare, hopefully chat with some more friends throughout the day, and hopefully get a good deal on a particular item of interest. Stay tuned to Comic Book Daily throughout the weekend for more coverage from Wizard World Toronto.