Alien invasions have been prevalent in pop culture for quite some time, captivating our imaginations with visions of a hostile extra terrestrial force from another galaxy that's come to say hello in either a very polite or impolite way. Seattle-based comic book writer Mitch Cook and Toronto artist Keith Grachow hope to explore that aspect of the human imagination with the subject of their recently commenced Indiegogo campaign for Concrete Martians.
"Concrete Martians"
Taking place during a Halloween edition of Orson Wells' Mercury Theatre Presents, the power and phone lines go out during a storm in Concrete, Washington, a small town in the U.S., during a radio broadcast of H.G. Wells' The War of the Worlds. The tiny town becomes the focal point for an alien invasion when the last thing anyone hears is the sound of aliens preparing to strike the earth. Back in the 1930s radio had the power to stir up our imaginations, and as the storm progresses and the last substations get knocked out, town sheriff Ted "Teddy" Wilson has his hands full with the locals who believe aliens are invading with serious intent to harm them. And then it's revealed the entire the broadcast was merely a radio theatre play.
What happened on that day was never fully documented, but Cook and Grachow hope to present the story featuring the Orson Wells broadcast up until the power goes out, and then using anecdotal evidence and commentaries, combined with newspaper reports from around the U.S., Cook and Grachow hope to tell the story from the perspective of the people in Concrete across a mere few hours on that  Halloween night in 1938.
The Campaign
Cook and Grachow hope to raise $2,500 to publish the first issue of their Mystery Theatre-based comic book project in digital format, costs they further lay out on their campaign page. It doesn't end with a 22-page comic though, as they intend to publish a 52-page graphic novel in the long term. To that end, they have included a number of stretch goals. For every $200 over their goal, they will produce another digital page to be included with the digital editions. Once they reach the $3,500 mark, they pledge to publish print copies of the comic book and will include it at specific contribution levels. Any pledges that take them beyond $3,500 will further go towards publishing print copies of the full 52-page Concrete Martians graphic novel.
With a $25 pledge you'll receive the "Ray Gun Award," which includes a digital copy of Concrete Martians and a grateful acknowledgement in the completed book. At the $50 ("Grover's Mill Reward") and $150 ("Poison Gas Reward") levels, if Cook and Grachow meet their $3500 stretch goal, contributors will gain a printed copy of the comic, in addition to digital copies of the comic and their pledge to include you as a character in the story at the $150 level.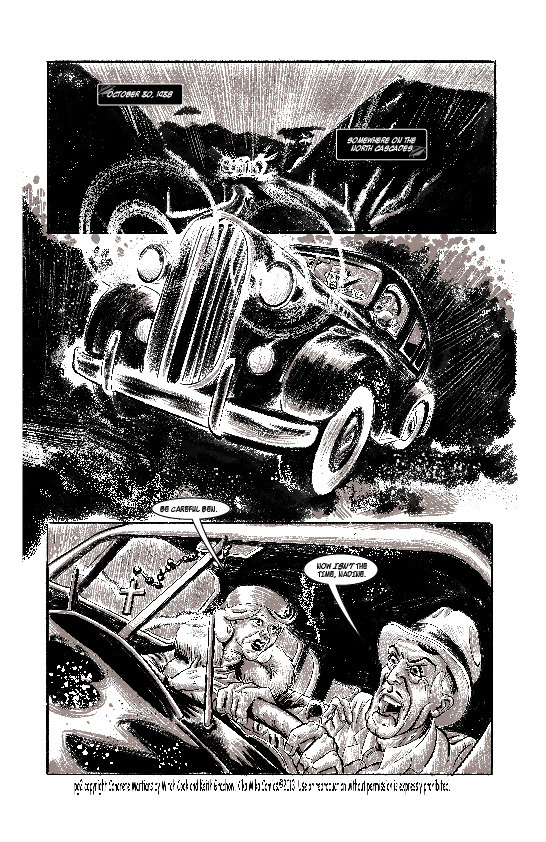 Value Perks
Cook and Grachow kept it light with their campaign rewards, but what they have included packs a wallop. You can get digital copies of their comic at the $25 level, with each additional pledge of $200 beyond their initial goal adding a new page to the final product. Prior to hitting their $3,500 stretch goal, the $50 and $150 rewards yield signed and personalized 8×10 colour prints drawn by Grachow and a digital copy of the comic, transforming as mentioned into a full graphic novel should they surpass $3,500 worth of campaign support. They also have the "Martian Invasion Reward" available, which includes a pass to the Emerald City Comic Con (ECCC), along with a 8×10 signed cover (or book if they reach their $3,500 goal the print comic) and a colour sketch of you and your loved one with a Martian. You'll also get a digital copy of the book and a big thank you in the final book.
Why Should You Support Them?
I think this comic has some very fun storytelling opportunities contained within it. It seems like a slice of life sci-fi story set upon the stage of a perceived alien invasion, that should be quite an entertaining read once it's finished. To imagine the story, you only need to think back to that era and how engrossed we as a society were both in the rise of media broadcasts and in our own ignorance of the world around us. And for as much as Cross and Grachow's story is a fun and entertaining comic, it's engaging this story in a different medium than what the residents of the day knew. There's so much of a love affair with alien life and so much we don't know, this comic shines a light on that reality and tells it in a fun, entertaining and engaging way: through our natural wonder of the world around us, and how we can even now in the 21st century be so silly sometimes.