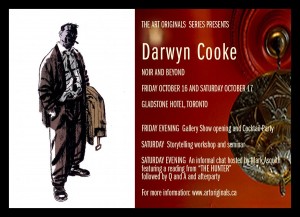 Chances are you're pretty familiar with Darwyn Cooke. He's arguably one of the most critically and commercially succesful artists working in the industry today. His recently(ish) released adaptation of Richard Stark's The Hunter was one of the best selling books to come out this year and has been critically lauded by pretty much everyone.
Well, for those of you (in the Toronto area) who want to a chance to see some of his work first hand, or maybe want to see what the hype is all about today is your lucky week, as Sean Menard and Walter Dickinson are presenting a art exhibit at the Gladstone Hotel this Friday October 16th, here's the blurb from Art Originals:
Noir and Beyond: The Darwyn Cooke Exhibition, 7 – 11 pm: Featuring selected works from the last decade, the Darwyn Cooke retrospective will include an entire chapter from Parker: The Hunter, new and unpublished material as well as a number of surprises!

Free admission – this event is open to the general public.
This is going to be a crazy fun night as Darwyn himself says: "This is a fantastic concept for comics art in the Toronto community and I hope everyone in the Toronto area can come out support Sean and Walter's amazing efforts. Be sure to come say Hi to Marsha and I."
If you can't make it friday night, Saturday will have:
Workshop with Darwyn Cooke, 10 – 3 pm: This workshop with master cartoonist Darwyn Cooke will provide patrons with valuable insights into his creative process. The lecture, question period and portfolio review sections allow for a unique opportunity to get inside the head of one of our most renowned industry stalwarts. Click here for a detailed workshop itinerary.

Spaces for this workshop are limited to 15 spots. Each space is $105 and fees are non-refundable. There is sure to be a waiting list for this event, so don't delay. Sign up today!


This workshop is presented in association with the Toronto Cartoonists Workshop. For a list of their ongoing courses offered in the downtown Toronto area please visit www.cartoonistsworkshop.com. For further information and to arrange payment, send an email to [email protected]

$105/person. Limited seating (15 persons).

An Evening with Darwyn Cooke, 7 – 10 pm: Hosted by Mark Askwith of SPACE, this intimate and interactive session will include a reading by Cooke from the original text of Stark's The Hunter with corresponding images from the graphic novel projected as backdrop. Cooke will be available immediately afterwards to sign copies of his work.

$10/person. Limited seating (75 persons)
This really is just a really cool sounding event and I really hope that many of you will try to make it. Myself and David will be attending and taking lots of pictures that we'll no doubt post on the site. Let's try to make this one as big as possible as I'd really like to see more of these shows to help spotlight great Canadian Artists.