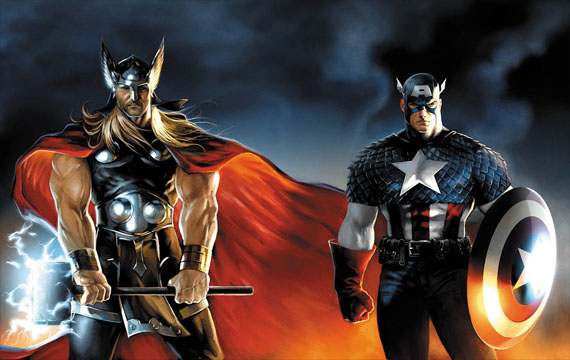 Now that Marvel has missed the March 1 deadline for a Captain America casting announcement, who knows when we'll hear the big news. Will it be John Krasinski (Captain America will make funny faces when he sees the Red Skull… Actually I really like this casting, to be honest.), or some other rising television actor? While we wait, here are two plot synopses that have been making the rounds for each of the Marvel comic book films set for Summer 2011.
Here is the probable synopsis for Joe Johnston's The First Avenger: Captain America, due out July 22, 2011:
Born during the Great Depression, Steve Rogers grew up a frail youth in a poor family. Horrified by the newsreel footage of the Nazis in Europe, Rogers was inspired to enlist in the army. However, because of his frailty and sickness, he was rejected. Overhearing the boy's earnest plea, General Chester Phillips offered Rogers the opportunity to take part in a special experiment… Operation: Rebirth. After weeks of tests, Rogers was at last administered the Super-Solider Serum and bombarded by "vita-rays." Steve Rogers emerged from the treatment with a body as perfect as a body can be and still be human. Rogers was then put through an intensive physical and tactical training program. Three months later, he was given his first assignment as Captain America. Armed with his indestructible shield and battle savvy, Captain America has continued his war against evil both as a sentinel of liberty and as leader of the Avengers.
Here is the official synopsis for Kenneth Branagh's Thor, scheduled for theaters on May 6, 2011:
Paramount Pictures and Marvel Entertainment present the epic adventure, "Thor," which spans the Marvel Universe from present day Earth to the realm of Asgard. At the center of the story is the mighty Thor (Chris Hemsworth), a powerful but arrogant warrior whose reckless actions reignite an ancient war. Thor is cast down to Earth by his father Odin (Anthony Hopkins) and is forced to live among humans. A beautiful, young scientist, Jane Foster (Natalie Portman), has a profound effect on Thor, as she ultimately becomes his first love. It's while here on Earth that Thor learns what it takes to be a true hero when the most dangerous villain of his world sends the darkest forces of Asgard to invade Earth
So what do you think?.