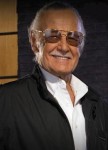 Hockey season has begun and what better way to celebrate than with some bizarre comic news.  What do hockey and comics have in common, you may ask?  Why, Stan Lee, of course.  In a strange marketing move, Stan 'The Man' has teamed up with the National Hockey League to establish a new franchise of superheroes called the Guardian Project.  Like a weird bridge between Geek and Jock, these 30 new superheroes will be based on the 30 NHL teams.  Each team will have one character that embodies their passion, their personality, and their rivalry. I assume this means the Flyers will fly, the Flames will control fire, and the Canucks will continuously change between uglier and uglier uniforms.  Look for Captain Toronto booing Captain Ottawa each time he punches a bad guy, and vice versa.
The newly formed Guardian Media Entertainment (GME) is thinking big with this venturing and planning not only a comic book, but also a novel, mobile applications, and television and film productions.  Their marketing machine has already started. Although a few promo images have been released via the New York Comic Con, most of the character details are being kept under raps.  GME plans to release images individually over the next few months, with their final reveal happening at January's NHL All-Star game.  This trailer is our first glimpse.
What if I tell you these characters won't actually be playing hockey?  Nope.  They come from the mind of a character called Mike Mason, a rather imaginative hockey fan.  Stan assures us that "we are trying to make Mike Mason as real as possible [and] the Guardians will have their own personal problems and hang-ups."  The comic icon also believes hockey is the perfect sport for this collaboration.  "It's fast-moving, it's thrilling, it's exciting as a game can be."
While the new superheroes are designed to appeal to the NHL's already dedicated fan base, they're also being marketed as a jumping-on-point for a new generation of sports fans. With the success of recent superhero movies and tv shows (many with characters created by Stan Lee) combining sports and superheroes could bring new fans to the world of organized sports.  It's a marketing gimmick, to be sure, and with a lesser name than Stan Lee, I'd assume immediate failure.  Are kids really going to watch/read/download a strange embodiment of a hockey franchise?  Sure, hockey fans might get it for their kids or buy it as a joke but unless it's a good quality product, above and beyond the niche,  I can't see this taking off.  Of course, I did watch Pro-Stars growing up, so feel free to prove me wrong.
Jill Nagel is a life long Leafs fan and believes they will go all the way this year…maybe…possibly…please?