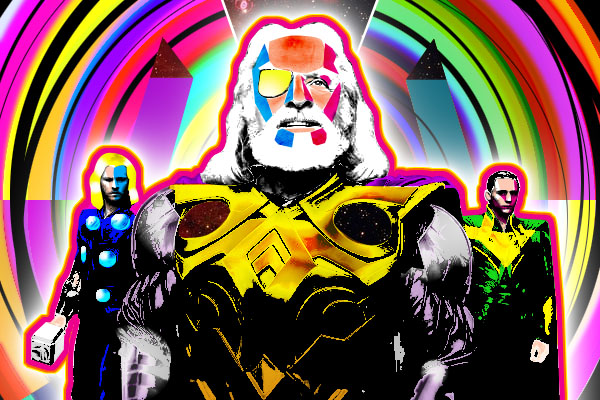 Cameron Stewart to draw Grant Morrison's Thunderworld(!) issue for his Multiversity comic book series. Thunderworld will be his take on Captain Marvel with frequent collaborator Cameron Stewart. Calling it Thunderworld, because Grant is bored by always having to use Shazam in the title, look for it next year. In one of our last interviews with Mr. Stewart, he mentioned that he'd been approached but had heard nothing about it since then. Any Morrison/Stewart collaboration is something to look forward to.
Dan Slott manages to outlive, outlast and out-write the rest of the Brand New Day Brain-trust and takes over Amazing Spider-Man! He'll be accompanied by a rotating team of top notch artists such as Marcos Martin! Humberto Ramos! and Stefano Caselli! The book will ship twice a month.
At that same panel, Marvel announced the creative team on the new Spider-Girl series teased in recently in Previews will be Paul Tobin and Clayton Henry. They also announced a new Carnage miniseries by Zeb Wells and Clayton Crain, as well as an Osborn miniseries by Kelly Sue DeConnick and Emma Rios about Norman Osborn's time in prison.
According to MTV News, the Will Eisner graphic novel "Contract With God" will become an anthology film. "Four directors, Alex Rivera ('Sleep Dealer'), Tze Chun ('Children of Invention'), Barry Jenkins ('Medicine for Melancholy') and Sean Baker ('Warren the Ape') will each tackle the book's individual chapters, 'A Contract With God,' 'The Street Singer,' 'The Super' and 'Cookalien,' respectively," they write. Former DC Comic editor Bob Schrek is involved as a producer. "We are all well aware that the work ahead has a very high bar of excellence to aspire to set by Mr. Eisner's pioneering achievements in storytelling," he said.
Still no word on Brian Michael Bendis becoming Editor in Chief of Marvel.. but that's just 'cause they're waiting for Toronto's Fan Expo.. right?
G4TV will air four Madhouse Studios-produced Marvel anime series — Iron Man, X-Men, Wolverine and Blade — in 2011.
apparently the Infinity Gauntlet is going to be in the Thor movie… no one has confirmed this, but that's a pretty bad-ass prop.