One of the premiere events on the indie comic convention circuit took place in Toronto this past weekend (May 5 to May 6).  The 2012 edition of the Toronto Comic Arts Festival (TCAF) expanded to five venues with its main programming and events held at the Toronto Marriott Bloor Yorkville Hotel, Ristorante Fortuna, and St. Paul's church on Bloor along with the two sites from the previous years, the Toronto Reference Library and The Pilot Tavern.  As always, this year's headliners at TCAF were very diverse and included international creators such as Konami Kanata (Chi's Sweet Home), Jason (Isle of 100,000 Graves), Gabriel Bá (Casanova), and Fábio Moon (Daytripper) along with creators from North America like Jeff Smith (Bone), Bryan Lee O'Malley (Scott Pilgrim) and Kate Beaton (Hark A Vagrant).  TCAF also features a large group of indie comic creators from various parts of the world.
In my opinion, TCAF is the most family friendly comic event among all of the comic conventions held in Toronto because it has children specific programming and guests every year.  For TCAF 2012, the headliners for the children specific events included creators such as Kazu Kibuishi (Amulet), Andy Runton (Owly) and Jeff Smith.  This year, the Saturday children's programming called Owlkids Day was held in two rooms at the St. Paul's church on Bloor which was less than a ten minute walk from the Toronto Reference Library.  One room was an auditorium used to hold presentations from comic creators and the other was used as a lounge area.  The auditorium was a good place for presentations because there was a stage and large screen to show the slides.  There were windows in the back that let in sunlight but I did not think it detracted too much from the slides.  The long line for the Kazu Kibuishi presentation consisted mainly of parents and kids.  Jeff Smith was signing at the same time and his line was even longer made up mostly of kids and parents.  Having a venue specifically focused on children programming is a great idea and I like to see it expanded to two days.  I think it also helps the parents who are there only for their kids keep track of them easier in a smaller venue.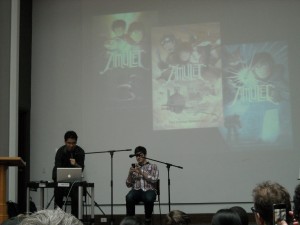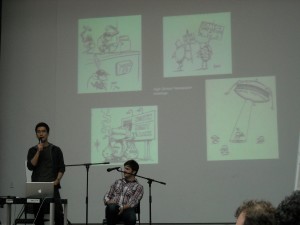 New to this year's TCAF was a stream of programming specifically geared towards aspiring and professional comic creators held at the Ristorante Fortuna.  The Ristorante Fortuna was a small but intimate setting that easily encouraged dialog between the audience and presenters.  The restaurant had two tiers of seating and I thought the best seats were in the upper tier.  I thought the two most interesting workshops were the ones held by Mark Siegel (First Second books) and Jeff Smith.  Mark Siegel held his "onion" workshop where he described a creator should be like an onion with seven layers.  It is a fascinating talk and should not be missed.  Jeff Smith held a demonstration on how he inked a drawing.  Ristorante Fortuna is a very good venue along with a very interesting programming stream.  I hope both will be back next year.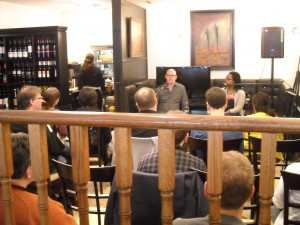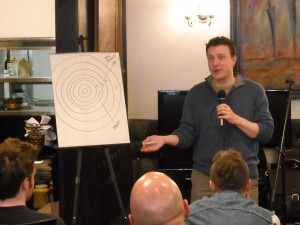 The programming at the Toronto Marriott Bloor Yorkville Hotel was held in the High Park Ballroom located on the first floor.  It was a large and professional meeting room that had seating for less than 200 people.  I was there for the first panel on Saturday morning and all the AV equipment was set up correctly and working.  There was plenty of ice water in the back along with pens and pads supplied by the Marriott.  It was a good off site venue that was less than a five minute walk from the Toronto Reference Library.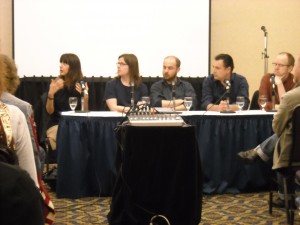 The set up at the Toronto Reference Library is the same as previous years with TCAF taking up the first two floors of the library.  Unfortunately, TCAF has outgrown the Appel Salon on the second floor because TCAF staff and library security started to restrict entrance into the room before 4:00 PM on Saturday due to overcapacity.  On Sunday morning, they restricted access into the Appel Salon around 11:30 AM but the restriction was lifted later on since the Sunday crowd was not as large as Saturday.
Overall, I enjoyed my time at TCAF 2012 because of the wide variety of guests and programming.  I liked all five venues and they were all close enough such that I did not miss any of the panels I wanted to attend.  All the TCAF volunteers I talked to were nice, polite and helpful.