After the disappointing 'non-event' that was Free Comic Book Day in London, I'm now looking forward to a pleasing plethora of comic conventions happening across the UK in the month of May.  An encouraging sign for an obviously healthy and growing industry on this side of the Atlantic, despite the relatively poor FCBD.
CamCon
The first of 2 conventions scheduled for this very weekend 12th and 13th of May, both taking place outside of London, this one in Cambridge.  Expect a solid Sci-Fi, Manga and Gaming vibe with live music from local bands and even karaoke, if that's your thing.   Is there anything cooler than karaoke in costume? No, there is not.
Bristol Comic Expo
The 2nd show this weekend happening outside the capital, this time in the west country at the Ramada Jarvis Hotel in Bristol.   Guest of honour Denny O'Neil will be on hand to answer any questions in the brightly titled Denny O'Neil panel  "a question of Bats, Arrows and Lanterns."  It's rather encouraging to see conventions like this one, popping up in the smaller towns and cities in the UK.   It's fairly easy to be a comics fan in London and it sounds as though it's getting a little easier elsewhere too.  Great news for country-nerds.
Kapow!
19th and 20th of May at the London Business Design Centre.  Probably the pick of the bunch in my humble opinion. This Con has a well-deserved reputation online with some smart PR and a solid momentum among the bloggers. An exciting guest list includes — but isn't limited to — Scott Snyder, Dan DiDio, Sara Pichelli, Olivier Coipel, Jonathan Ross, Bryan Hitch, Mark Millar, Dave Gibbons, Paul Cornell and Peter Milligan to name a few!  There's also a fantastic panel schedule and I've managed to get tickets for both days so, a full and in-depth report will follow for sure.  I'm all over this.
The London ComicCon
26th and 27th of May at the Excel Center in London's Docklands.  Emphasis on movies and gaming here.  There's nice little buzz around this Con online and seems as though it could be a great day out for all the family with its focus on movies and animation.  Something for everyone here maybe?
Melksham ComicCon
26th of May at the Melksham Assembly Hall in Wiltshire.  The last of the shows in May and a relatively quiet Con in a small town on the banks of the river Avon.  Again, it's encouraging to see a show like this happening in a sleepy little town like Melksham, long may the UK ComicCons continue to grow and expand.
Please do shout if you have any insight into these shows and if you're planning to go along to any.  We need to make up for the poor showing on FCBD in the UK which sounds like the strongest day in the calendar on the other side of the Atlantic!  We need to make sure ol' Blighty doesn't get left behind.
I'm all over this too.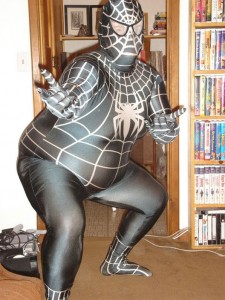 PS: This is not me.