TCAF is one of the those exciting comic book experiences that don't come along as often as they should. A celebration of pretty much everything under the umbrella of comic art.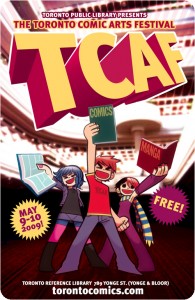 It can be pretty overwhelming when you walk into the Toronto Reference Library.* Rows and rows of comic creators and fans intermingling and chatting about all sorts of things. It's not your standard comic experience and it's what separates TCAF from your wizard worlds and fan expos.
So far the highlight of my day was getting to meet Paul Pope. He was looking for the Pilot (where some of the panels are being held) so I got to walk him half way. He's taller than I thought.
I also attended the Charles Vess spotlight – wherein he showcased some of his process working on the Neil Gaiman penned "The Instructions." His artwork – even in quick sketch form – is absolutely beautiful.
We've set up quite a few interviews and I bought a few books and one offs with a few different creators who's work I've never heard of. That's the best part of coming to these things is getting to meet and interact with rising talents.
Dave Diep – our news editor – took a whole whack of pictures today and here they are.
If you're in the Toronto area you definitely have to drop by. TCAF opens at 11 and goes until 5pm
*Toronto Comics FUN FACT: this was the place that Knives Chau and Ramona Flowers battled each other in Scott Pilgrim.
Pete DeCourcy is EiC of ComicBookDaily.com. He tumbls over at You Practically Rock and writes for The Simple Art of Crime. If you have any questions or demands of him, he can be reached via email at pdecourcy[at]comicbookdaily[dot]com