The Toronto Comic Arts Festival 2011 was held at the Toronto Reference Library this past weekend.  If you've never been TCAF is the antithesis of Wizard World or Fan Expo: its publishers and creators that focus on non-superhero comics.  I almost said non-mainstream or fringe but this is a large area and TCAF gets a good amount of Canadian mainstream talent attending as well.
I was happy to see Fantagraphics set up along with Drawn & Quarterly, the two big non-superhero comic publishers.  You get a chance at a show like this to thumb all the books and get a feel for what's new and current.
Of course the big draw is to interact with your favourite creators and this show was no exception.  I spotted Darwyn Cooke outside and we had a nice chat about upcoming projects, IDW's Scott Dunbier and comic flippers.  He asked me not to publish our conversation other than to say there are some juicy extras with the Parker Martini Edition and he hates selling original artwork at shows to eBay flippers.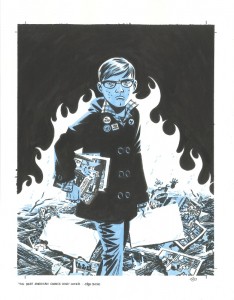 Another wonderful opportunity presented itself for me to chat up Michael Cho.  He had a good-sized table of fan favourite prints available but I was able to pick up his cover to The Best American Comics 2010 that I've been admiring since he posted it on his blog.  I love the grim determination on his face as he rescues items from the bonfire.
I brought along a few books to get signed but ended up forgetting quite a few.  Seth was present and sketched in every book; we chatted while he worked and I found him gracious and appreciative of his fans.  Look at those great sketches!  Decided to get one for my son while I was there.
My other big visit was to Paul Pope.  There was a bit of a line but that was because he was sketching for everyone, plus sharing with his fans: intelligent engaging conversation.  Anthony Falcone was with me throughout the day and was gracious enough to get an additional sketch for me.  Plus I received some crazy sketches in the books I brought to get signed: the one on the left was something Pope saw Toth used to add to works so he decided to keep the tradition alive.
I wasn't able to attend Saturday as it was Free Comic Book Day but I did hear about the crushing crowds.  Sunday was busy but still easy to navigate and experience the show.  Unfortunately a lot of product around the room sold out Saturday but I really didn't come to buy anything anyway.
It was interesting to see creators signing and sketching for free, another big difference from more mainstream show.  The overall atmosphere seemed friendlier and more relaxed, in part because of its location: the library is far nicer than any concrete convention center.