Bill Amend is the creator of the syndicated newspaper comic strip FoxTrot, which started in 1988.  He was one of the featured guests at The Toronto Comic Arts Festival (TCAF) 2013.  Part of the TCAF 2013 programming was a spotlight on Bill Amend.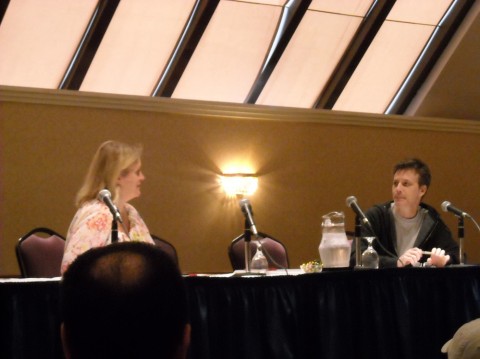 Amend was worried that not everyone in the audience was familiar with FoxTrot so he began the panel with a set of slides introducing his comic strip.  FoxTrot follows the Fox family that is comprised of the father Roger, his wife Andy and their three kids Peter, Paige and Jason.  He said FoxTrot is about collisions between the siblings.  Jason also has a pet iguana called Quincy.  Amend never had an iguana as a pet (he actually had a hamster when he was little) but he loved drawing dinosaurs so he created Quincy.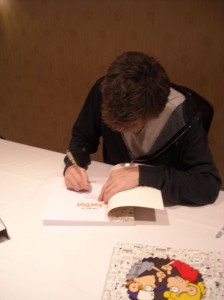 Amend was a physics major in university so a lot of the FoxTrot comics had jokes that featured math and science.  He played D&D when he was young so FoxTrot also had D&D jokes.  At first, he was worried that the general audience would not understand these references and, thus, not find the jokes funny.  In the end, he decided that he would rather have 20% of his audience get the joke than removing it.
It looked like Amend had all of his comics on his laptop and made very good use of it during the audience Q&A.  For example, someone commented that she loved his guest strip on the webcomic xkcd.  He pulled his strip up and showed us.  He also was a guest on other webcomics like PvP (as seen here) and Penny Arcade.
FoxTrot is also known for its cultural references.  He commented on Apple's no flash policy in this strip.  He did a Game of Thrones and My Little Pony mashup.  He says he still gets emails asking if he's a brony (he's not) but he is a huge fan of Game of Thrones.
An audience member wondered if Amend ever considered aging the kids in FoxTrot.  He considered it about ten years into FoxTrot but decided against it because it would have changed the entire dynamics of the family.  If the kids were a few years older, FoxTrot would probably be a lot darker and less funny.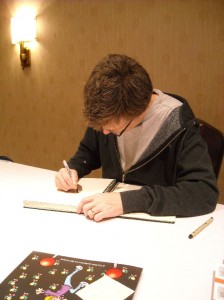 There was a comment from the audience that FoxTrot was a bit like For Better or For Worse because of its continuing storylines, although they were not as long.  Amend said that the longest storyline in FoxTrot was eight weeks and he felt that was the maximum he could make it.  He did not want to turn off any new readers who happened to come upon FoxTrot in the middle of a storyline.  He thinks the FoxTrot collections sell better than his peers' collections because FoxTrot has story arcs.  Most of his peers create comic strips with unrelated jokes and reading those strips in a collection is a far different experience than reading FoxTrot in a collection.
I asked him if the decline in newspaper readership has hurt FoxTrot.  He said (knock on wood) that it has not.  Newspapers buy syndicated strips in a package and those packages are very affordable.  There has not been any noticeable increase or decrease in newspapers buying the packages.
Six years ago, Amend stopped creating daily strips of FoxTrot but continued creating the Sunday strips.  Someone asked him what he was doing with all his free time.  Working on FoxTrot full-time was all consuming because of the daily deadlines.  It left him with no time to pursue other things that interested him.  Six years ago, he was at a point in his life financially that he did not need to work full-time so he decided to semi-retire from FoxTrot.  At first, he wanted to write a children's book but decided against it when he heard some of his peers were doing it.  He did not want to do something everyone else was doing.  He loves programming so he decided to learn how to program for the iPhone.  He is currently working on a math quiz iPhone app.  He did a quick demo of it and the hardest level is the Jason level.
You can read FoxTrot online here.
---
All photos courtesy of Stanley Jon.