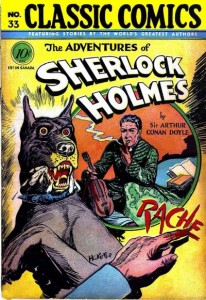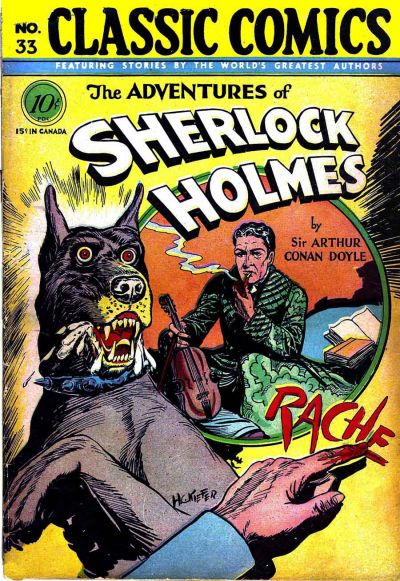 Classic Comics #33, The Adventures of Sherlock Holmes, Gilberton Publications, (January 1947)
I've often looked to Classic Illustrated (it was called Classic Comics for the 1st 34 issues) for a Spotlight but for some reason never posted one. I was pricing a small stack of Classics the other day and started thinking about all the great collectible issues there are in the run. Popular high profile issues including #8 and #43 that deserve a look but those are already widely coveted by the collecting community.
My 1st pick out of the Classics catalog is #33, the Adventures of Sherlock Holmes. In my opinion Sir Arthur Conan Doyle's Sherlock Holmes sits atop the list of characters adapted by Classics Illustrated in terms of pop culture appeal. A close second would be Robin Hood.
Classics Illustrated is a historically significant comic book title and it's my view that e should all have at least a few shining examples of this title. The Adventures of Sherlock Holmes would be a great selection.
Classics are tricky so take the time to learn the HRN system.
I can't tell you how many times over the years I've had people bring in a Classics #2 (Ivanhoe) or a #10 (Robinson Carusoe) and tell me they had seen these books go online for hundreds of dollars. Most look at me cross when I try to explain the HRN system, I think half the people don't believe me.
The Overstreet Comic Book Price Guide makes Classics easy, basically you look at the back of the book or on the inside of one of the covers. There you'll find a list of Classics Illustrated available. Match the last issue mentioned to the HRN # in the Guide and you'll see which printing you own. If your HRN does not match at all you most likely have a Canadian Edition, more research will be needed.
Classic Comics #33 was only reprinted 3 times which is on the very low side for Classics. HRN #89, the 4th printing of the comic was published in 1951.
This fact makes #33 very hard to come by. Most people versed in Classics will know that issues like The Three Musteteers (#1), The Count Of Monte Cristo (#3), Moby Dick (#5) and say Robin Hood (#7) are all plentiful and easily available as later printings. Basically just owning a Sherlock Holmes issue guarantees you some collecting value as even the HRN 89 printings from 1951 are $400 comics in high grade.
I of course recommend you get the HRN 33 printing since it is the original and it includes a 17 page adaptation of "A Study in Scarlet" to supplement the massive 44 page adaptation of "The Hound of Baskervilles".
Here's a tip on knowing your #33 is an original, it's cover banner is Classic Comics. The second printing, HRN #53 is printed under the cover banner Classics Illustrated.
Industry veteran Henry Carl Kiefer provided the dramatic cover art. I believe this was the 1st of the 34 Classics issues Kiefer eventually worked on.
As I mentioned before this is a rare comic, I was only able to find 1 sale in the last 3 years and that was a recent sale of a CGC 4.5 that realized just under 80% of guide.
The 42nd edition of the Overstreet Comic Book Price Guide shows $806/$1378/$1950 as the 8.0/9.0/9.2 price splits.
Strengths that make this comic book a good long-term investment are:
Classic's most marketable adaptation
Scarce since it was only reprinted 3 times, the last in 1951
Part of one of the most famous comic titles of all time
Collected by Classics fans, Sherlock Holmes fans and by comic connoisseurs like yourself