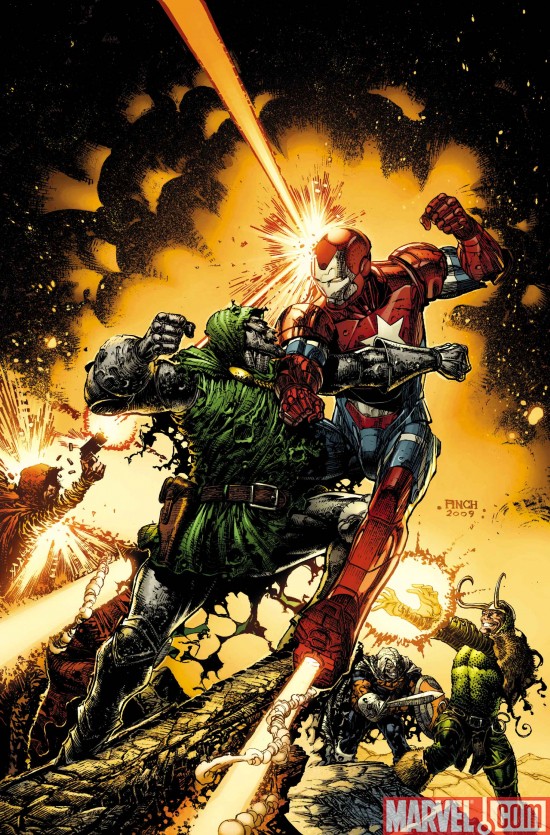 Marvel released today this teaser for a December event. We don't know much about it so far except that Brian Michael Bendis will be scripting with artists extraordinaire Michael Lark and David Finch will be supplying art in some capicity. This is good news for fans of Doctor Doom and gives me some sort of hope that Dark Reign will start having some cohesion in terms of plot advancement.
Plus – it's always nice to see Dr. Doom being awesome, talking in the third person and generally being the ultra-villian he was meant to be.
UPDATED: Thanks to this months solicits we can finally shed some light on this teaser cover. Looks like it all has to do with the Dark Siege even that's taking place in Thor (and one of the reasons why J Michael Straczynski left the title.) Here's the solicits:
SIEGE: THE CABAL
Written by BRIAN MICHAEL BENDIS
Penciled by MICHAEL LARK
Cover by DAVID FINCH
THE SIEGE STARTS HERE!!
Remember when you were first introduced to the Cabal, the gathering of the most sinister members of the Marvel Universe, and you said to yourself: Well, that's going to blow up in everyone's face! Well, you were right and it happens right here!! Norman Osborn faces off with Doctor Doom and his mysterious threat to Doom is revealed. All of this is setting the stage for next month's explosive event: SIEGE!
48 PGS./One-Shot/Rated T+ …$3.99
ORIGINS OF SIEGE
SIEGE is almost upon us! And this special giveaway issue contains everything readers will need to prepare themselves for the ultimate conflict to hit the Marvel Universe, six years in the making! Showcasing an ALL-NEW lead-in story featuring Loki, the God of Evil, ORIGINS OF SIEGE also contains an ALL-NEW origins section covering all of the major players in the battle, as drawn by the biggest artists at Marvel, as well as pinups and a checklist so you don't miss a single important issue. All that and a preview of SIEGE #1! It's time!
32 PGS./Rated T+…
THOR #605
Written by KIERON GILLEN
Pencils & Cover by BILLY TAN
The invisible hand of Loki's sly tricks has made plain the treachery that lay in store…and after the devastating events of THOR: DEFINING MOMENTS GIANT-SIZE and THOR 604, everything comes to a head! The volatile balance of power in Latveria is tipped, and all sides march toward all-out war!
32 PGS./Rated T+ …$2.99