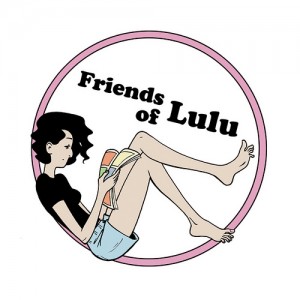 The Lulu Awards recognize the people and projects that help open the eyes and minds to the amazing comic and cartooning work by and/or about women.
The nominees list this year is truly star-studded including Christian Slade, Gail Simone, Kate Beaton, Kathryn Immonen, Terry Moore, Nate Powell and many, many more.
You can check out the entire list of talented nominees here or you can see a snippet of them below.
The following is a list of the nominees for the 2009 Lulu Awards. The Lulu Awards recognizes the  the people and projects that helped to open eyes and minds to the amazing comic and cartooning work by and/or about women.

VOTING IS NOW OPEN TO THE PUBLIC FOR THE LULU AWARDS!! Email us with your picks (one from each category) at

along with your full name, by Monday, OCTOBER 19. One ballot per person, please.

The winners will be revealed in November at a date & venue to be announced soon on this website.

This year's judges are:

Brigid Alverson – writer, editor, columnist, and blogger

Jennifer Babcock – comic book historian and creator

Abby Denson – writer, cartoonist, and teacher

Cheryl Lynn Eaton – blogger and writer

Chris Eberle – comics retailer

Karen Green – academic librarian and columnist

Robert Randle – purchasing assistant manager, Diamond Distributors

UPDATE: Due to an error, Sabrina Jones was nominated in the "Best New Talent" category. Sabrina has actually been on the comic scene longer than the required three years maximum, but we would still urge you to pick up her critically-acclaimed Isadora Duncan: A Graphic Biography. Anybody who has already voted for Sabrina will be contacted and offered another chance to vote for this category. We apologize for any confusion this may have caused.


And now here are the nominees for the 2009 Lulu Awards:

Kim Yale Award for Best New Talent

(must have first published work within the last three years)


Kate Beaton, Hark, A Vagrant

Liz Baillie, My Brain Hurts

Mariko Tamaki, Skim

Madeline Rosca, Hollow Fields

Kathryn Immonen, Hellcat


Tracy White, Traced

**********************************************************************


Lulu of The Year

(awards the creator/s, book, or other project whole work best exemplifies Friends of Lulu's mission)

Shaenon K. Garrity, Skin Horse

Lynda Barry, What It Is

Danielle Corsetto, Girls With Slingshots

Nate Powell, Swallow Me Whole

Mariko and Jillian Tamaki, Skim

Terry Moore, Echo

Jessica Abel, Life Sucks, Drawing Words and Writing Pictures

**********************************************************************

Woman of Distinction

(nominees work in the comic industry in non-creator roles such as editing, publishing, reporting, or retail)

Joanne Carter Siegel, widow of Superman co-creator Jerry Siegel

Gina Gagliano, Marketing Associate at First Second Books

Jackie Estrada, Eisner Committee & Exhibit A Press

Francoise Mouly, Editorial Director of Toon Books

Mimi Cruz, owner of Night Flight Comics

**********************************************************************

Leah Adezio Award For Best Kid-Friendly Work

Korgi, Christian Slade

Sardine in Outer Space, Emmanuel Guibert and Joann Sfar

Gary the Pirate, Scott Christian Sava

Rapunzel's Revenge, Shannon, Dean & Nathan Hale)

Stinky, Eleanor Davis

Tiny Titans, Art Baltazar

Hereville, Barry Deutsch

**********************************************************************

The Female Cartoonists And Comic Book Writer's Hall Of Fame

(formerly, The Female Cartoonists Hall Of Fame)

CLAMP, Chobits, Kobato, Cardcaptor Sakura, and many many more

Tove Jansson, Moomin

Natsuki Takaya, Fruits Basket

Gail Simone, Wonder Woman, Secret Six, Birds of Prey

**********************************************************************

Best Female Character

Monica Villarreal, Wapsi Square by Paul Taylor

Kimberly "Skim" Keiko Cameron, Skim by Mariko Tamaki and Jillian Tamaki

Rapunzel, Rapunzel's Revenge by Shannon, Dean, and Nathan Hale

Barbara Thorson, I Kill Giants by Joe Kelly & JM Ken Niimura

Mirka, Hereville by Barry Deutsch

Melanie, Melody by Ilias Kyriazis

Julie Martin, Echo by Terry Moore