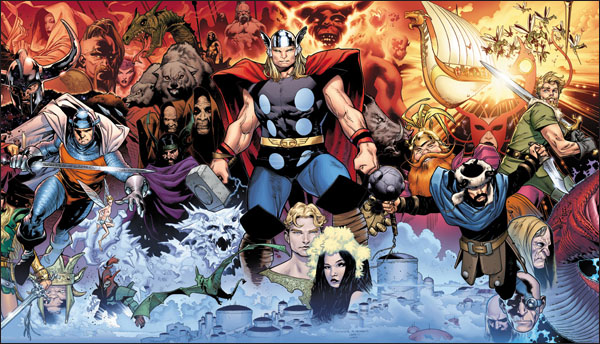 Official Press Release
Los Angeles, CA January 11, 2010 – Marvel Studios has commenced principal photography on the highly anticipated feature film THOR directed by Kenneth Branagh. In THOR, Chris Hemsworth portrays the title character with Tom Hiddleston in the role of Thor's brother Loki, and Natalie Portman as Jane Foster. Additionally, the studio has cast Academy Award® winning actor Anthony Hopkins
as Odin, Renee Russo as Frigga, Ray Stevenson as Volstagg, Tadanobu Asano as Hogun, Josh Dallas as Fandral, Jaimie Alexander as Sif, Idris Elba as Heimdall, as well as Colm Feore, Kat Dennings and award-winning actor Stellan Skarsgård. The film is slated for release in theatres domestically on May 6, 2011 via Paramount Pictures which will also release the film on a worldwide basis.
The epic adventure THOR spans the Marvel Universe from present day Earth to the realm of Asgard. At the center of the story is The Mighty Thor, a powerful but arrogant warrior whose reckless actions reignite an ancient war. Thor is cast down to Earth and forced to live among humans as punishment. Once here, Thor learns what it takes to be a true hero when the most dangerous villain of his world sends the darkest forces of Asgard to invade Earth.
The screenplay for THOR was penned by Mark Protosevich as well as Ashley Miller & Zack Stentz, and Don Payne. Marvel Studios' President Kevin Feige will produce the film. Alan Fine, Stan Lee, David Maisel, and Marvel Studio's Co-President, Louis D'Esposito, will executive produce.
In addition to THOR, Marvel Studios is also scheduled to release a slate of films based on the Marvel characters including IRON MAN 2
on May 7, 2010, THE FIRST AVENGER: CAPTAIN AMERICA on July 22, 2011, and THE AVENGERS on May 4, 2012.
About Marvel Entertainment
Marvel Entertainment, LLC, a wholly-owned subsidiary of The Walt Disney Company, is one of the world's most prominent character-based entertainment companies, built on a proven library of over 5,000 characters featured in a variety of media over seventy years. Marvel utilizes its character franchises in licensing, entertainment (via Marvel Studios and Marvel Animation) and publishing (via Marvel Comics). Marvel's strategy is to leverage its franchises in a growing array of opportunities around the world, including feature films, consumer products, toys, video games, animated television, direct-to-DVD and online. For more information visit www.marvel.com.