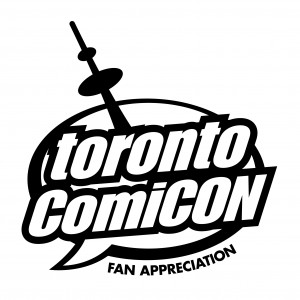 I'm just back from the first day of the HobbyStar Toronto ComiCON Fan Appreciation Event, the free show being put on at the Metro Toronto Convention Centre South building this weekend.
This felt like a strictly comic book event: lots of comic dealers, a few toy dealers and a bustling artist alley.  There were a few movie and television guests that drew some crowds but they were in a corner of the room and to be honest I avoided the area.
There was a decent amount of traffic on the floor today but it seemed light for a Saturday comic event: those I spoke with who came by the Comic Book Daily table felt it wasn't advertised enough.  For a free show you'd expect much bigger crowds: it was light compared to the Wizard show last month.  With a significant comic dealer presence the crowd today were serious back issue buyers looking for bargains, but I did see some big Marvel silver age purchases.  On the collected editions front I did see some excellent hardcover and trade sales of 40% off U.S. cover price around the floor.  Very few cosplay or anime customers with no dealers catering to that crowd.
Artist alley had some great first time Toronto appearances: Patrick Gleason and Geof Darrow.  Others included Ethan Van Sciver, Chris Sprouse, Khoi Pham, Bob McLeod and local favourites Marcus To, Dale Keown, Francis Manapul, Leonard Kirk and Michael Cho.  Everyone was doing sketches, head ($40-60) or full figure ($150-250) seemed to be the norm.   A lot of great pages were for sale around the room and deals were to be had.  Crowds at the artist tables were workable and you could spend a few minutes chatting, browsing and engaging in this pool of comic talent.
It was an energetic and comic centric first day.