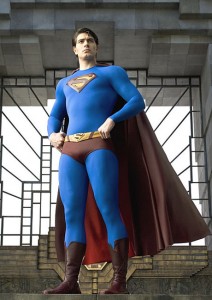 According to the Thompson on Hollywood blog; an insider at WB has stated that all live-action film production on Superman projects are officially on hold. Lackluster reviews and box office on the last movie seem to have killed the franchise. Well, we certainly can't blame them. Superman Returns was just SO FRIGGING BORING! When Kevin Spacey as Lex Luthor does more kicking and punching than Superman, you know you've got a problem with your movie. Here's an except for the article.
The studio is still seeking the right direction. No writers are working on a Superman script. "We're working on a strategy for DC," says one Warners exec. "Superman is the trickiest one to figure out." In fact WB consumer products guru Diane Nelson, who liased with JK Rowling on the Harry Potter series, has been charged with putting the integrated DC/WB house in order.
Trickiest one to figure out? He's the easiest! You stick Lex Luthor in a power suit powered by Kryptonite and you let him and Superman fly around the city shooting at each other and throwing stuff around. Brandon Routh had the right look but he never got a chance to show off a proper Superman. Plus, you toss in the Super-roofie kiss and you got the makings of Superman the date-rapist. What do I think they need to do? Keep the current continuity but adapt Grant Morrison's All-Star Superman series to the big screen to put an end to the current legacy and start a brand new one later ala Batman.