Welcome back to the ComicBookDaily Progressive Shop Profiles! Comic shops often get a bum rap; they're seen as dingy little holes in the wall that you wouldn't want to take your mother into. It's ComicBookDaily's mission to dispel this false myth by highlighting some truly amazing comic book stores! In fact progressive comic book stores are often on the leading edge of innovative retailing, offering unparalleled product knowledge, unbeatable service and a truly rewarding shopping experience. We've designed a set of finely crafted questions, aimed them at these great stores and now pass along the useful information to you comic fans out there.
This time around, we're taking a look at 2009 winner of the Eisner's Spirit of Comics Retailer Award; Tate's Comics in Lauderhill, Florida. The place looks fantastic and the back story of how the store was found is pretty awesome too.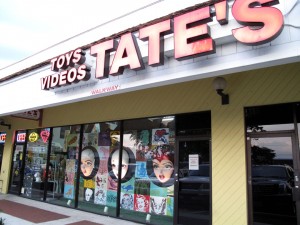 How was the location of TATE'S decided and do you like it?
Our store is located in Lauderhill, which is a suburb just east of Fort Lauderdale. We are about halfway between Miami and West Palm Beach which really is great! We're a destination shop and able to say that we're about a half hour from two major areas of South Florida.
How long has TATE'S been in business for?
16 ½ years. It will be 17 years in March 2010.
 Do you take part in Free Comic Book Day?
 Yes, of course! We always give away tons of free comics each year. We also donate them to our local libraries. We offer nearly ALL of the available Free Comic Book Day titles each year, so there is a great selection for our customers to choose from.
Does TATE'S feature a back issue section? If so, what sort of areas do you focus on? 
We have an extremely large selection of back issues, ranging from Golden Age to current. We try and keep entire runs stocked in our bins as much as possible which is an ongoing job! We also offer comic book discount bundles, where you can get a large run of back issues for one low price.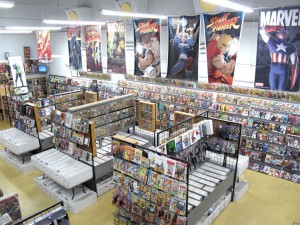 What do you think are the strongest assets of your store?
One of our strongest assets is our diversity. In addition to having a vast stock of comics and graphic novels, we also carry all different kinds of art books, drawing supplies, manga, toys, Japanese snacks, vinyl toys, anime, cult and Asian cinema DVDs. Honestly it is SO diverse that it is a bit hard to sum it up here!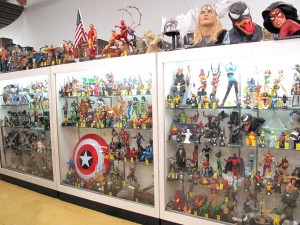 Do you offer a subscription service and what sort of incentives do you offer subscribers?
We offer a free first-class pull service and 10% off all new comics to our subscription customers. We will RARELY miss pulling a title on your list and if we do we will make sure it doesn't happen again!
What approach do you think that TATE'S   has that sets it apart from other comic book stores?
The diversity of the merchandise we offer and also the wide variety of special events that we host. We have things like free Japanese Snack Tastings and art shows on a regular basis. I also expect it is the people who work here that makes us special!
Are there any creator signings or visits to the store that you would like to boast about?
The latest greatest signing we had was with Jimmy Palmiotti and Amanda Conner. Having them in our store was a real treat, both for our customers and for our staff! They are both so amazingly talented and personable. Honestly, we don't have a lot of opportunities in South Florida for creator signings! We tried to draw some to our store a few years ago with the offer of a "free Florida vacation" but didn't get any bites! Being located in New York or California definitely gives you an edge to get great signings, etc. 
What are the various promotions you put on every year, whether it be Boxing Day or Anniversary sales and what do these promotions entail?
We do an enormous Halloween Sale and an Anniversary Tent Sale every year; those are huge events which draw hundreds of people. We recently started the "Super Spotlight" in which we single out a character each month and offer a discount on everything we sell that includes that character. We also do a special "Black Friday Coupon Madness" sale and offer various special "secret" sales to the customers on our email newsletter list.  We also do the Free Japanese snack twice a year and have new art openings in our gallery about every 6 weeks.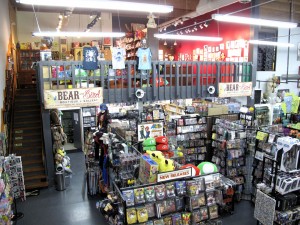 What are the future plans for the business?
We are in the beginning stages of another store remodel. Planning on moving around a bunch of our sections and adding improvements. We are always adding new product lines and merchandise and plan to continue to evolve and grow as time goes by!
Owner Profile: Tate Ottati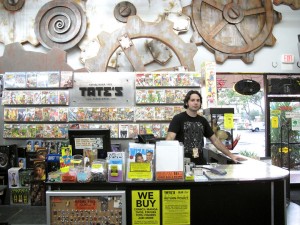 What made you decide to get into comic book retailing and what is your comic book background?
You can read a detailed history on that topic at our website:  http://www.tatescomics.com/Pages/aboutus.html
What's the one title you wish you were selling more of and why?
Fables! I just recently started reading it and it is really great. The graphic novels sell better than the individual monthly comics.
What direction do you think the Comic Book Industry is moving in and where do you think we will be 5 years from now
I really can't say. I just hope more NEW people find out about comic books and go to their local shop to buy them. I really wish all of the comic-based films that are coming out would be more proud of their lineage! All too often people don't know that their favorite new movie was based on a comic book.
So make sure you check the guys out at http://www.tatescomics.com/