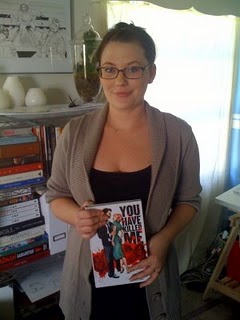 Have you ever had an artist that you'd follow to whatever project they'd do?
Joelle Jones is that artist for me.
Luckily though everything she's done so far has been something I'd totally want to get anyway.
I first found her through "Twelve Reasons Why I Love Her" – written wonderfully by Jamie S. Rich, a beautiful story telling the realistic relationship between two people.
I followed her through appearances in the Popgun Anthologies, Fables, Madman Atomic Comics #16 and other guest appearances and one shots – including the absolutely sublime detective graphic novel You Have Killed Me.
Her art is a wonderful balance of realistic and cartoony. She's also capable of drawing characters that dress like you and I do. Something that is probably my biggest issue with artists working in comic books today.
While she's currently hard at work on the second part of the best selling Trouble Makers (the NASCAR/Mystery series written by my guilty pleasure writer Janet Evanovich) and is currently working on a long-form comic for Vertigo called The Starving Artist.
Below you're going to see a whole whack of her work, take your time looking at them, and notice the absolutely wonderful attention to detail that she's gives each character. From the way they stand, to their facial expressions. Trust me, you'll understand what I'm talking about. (you can also check out this FLICKR stream of some of great sketches and drawings.)