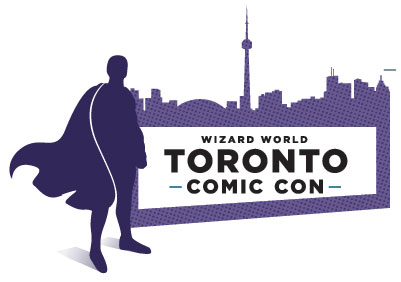 Welcome back to interviews with comic book daily.  This is David Diep and today I'm speaking to Stephen Shamus, the chief marketing officer of Wizard and one of the people bringing the Toronto Comic Con to us. Read, listen or do both to follow along!
CBD: How are you doing today, Stephen?
Stephen: I'm great, thanks.  How are you?
CBD: Not bad at all. So, now we have a date set for the Show, in March and we have a location at the Direct Energy Centre, in Toronto.  Why did you go with these dates and location?
Stephen: In terms of the date, it's really the best time of year, we felt, for the fans, the exhibitors, and the celebrity talent. We went through the calendar obviously with Peter Dixon, the former owner of the show, who is now working with us on the show and when you go through the calendar and you look at all the events we currently put on and available dates, it was really the best time of the year to be able to do it for everybody. So, that's pretty much what it was and in terms of the Direct Energy Centre, Peter actually used to do the show there and people remember it as having been at that location.  So, there's a lot of parking there. It's easy and speaking to Peter, not only is the parking situation good, it's easily accessible by the Toronto Transit Commission and the public transit system and at the end of the day it should be very easy for people to be able to find. It's down on the main street, on the Exhibition grounds and we have room for growth if the show really takes off.
CBD:  Right.  You'll probably also avoid issues like Fan Expo had, like bottlenecking at escalators to get into the rooms.
Stephen: Right, rooms were something Peter had mentioned to us, yes.
CBD:  Traditionally the shows have been named Wizard World such and such, after the city, but now they… the namings of the cons seem to be the city Comic Cons.  Why the change in the name?
Stephen: Actually Wizard World is back in all the names, so if you look in all the logos and you go to the website it may not have been fully. It should be everywhere marked as Wizard World Toronto Comic Con. The Wizard World name is in all of the materials now.
CBD:  Okay.  What's the hardest part in putting on a show in a city that also has another large show in it as well?  Do you think that the shows will share guests or would they not want to do the same city twice in a year or is it even a non-issue?
Stephen: It's really a non-issue.  Aman [Gupta, event co-coordinator of Fan Expo Canada] puts on a great show. He really does.  He puts on a great event.  He's put on a great event for many many years.  We respect everything that he's done.  He's done a terrific job.  Our show's just going to be a different show.  It's going to have different guests. It's going to have different exhibitors. It's just going to to be a different kind of a show and- and that's fine. I mean, he puts on a great show.  He really does and we expect to put on a great show as well. So it's really not an issue from our point of view.  And in terms of putting on a show …what the hardest part is with all these events is to create a compelling event where people are going to want to go to and if you bring the right elements to the show people will show up and that's always the hardest part, is to create something that is compelling for people to want to shell out their hard earned money for.
CBD:  What do you think Wizard itself brings to the convention scene in Toronto?
Stephen: I think that we actually know how to do compelling events.  That's what we do.  We do it in the other cities.  We bring talent, whether it's comic book talent, artists, writers, creators, TV stars, movie stars, you know, ex-TV stars, ex-movie stars, so that's what we bring and you know, one of the things that we're going to bring, we're going to bring some of  the vendors that maybe people in Toronto haven't been familiar with over the years, some new vendors that they haven't seen before. So they'll get a new product mix to look at and so we'll have some vendors that we deal with on a regular basis that we'll be able to bring to the Toronto market as well. 
CBD:  That's really good to hear because one of the bigger issues that people have been having with some of the other shows, like the Fan Expo, is that there is not enough wide variety of retailers.  We're mainly getting the usual Canadian suspects at the show, so it's good to hear that we're going to see some more variety.
Stephen: Yeah, part of what we do well is being able to bring a lot of vendors that bring a lot of different kinds of merchandise.  We have a lot of Golden-Age dealers.  We have Silver-Age dealers.  We have guys who sell original comic book art.  We have guys who sell fine art.  We have guys who sell lithographs and all those kinds of things and so; we have a very good mix.  We have people who sell swords.  We have people—I don't know if you have ever been to one of our shows, but you know, we have people who sell the movie props, the memorabilia, the swords, the statues so and you can buy one dollar comics! You can buy half-trades, you can buy a lot of different things from a lot of different vendors that span basically from the beginning of time of comics all the way through to the current age.
CBD: Can you get into any specifics about vendors that have signed onto the show at Wizard World Toronto?
Stephen: You're gonna see a lot of the vendors that typically will travel nationally to a lot of our shows. A lot of the guys like Jamie Graham, Stylin, although I do think they do travel to Toronto now. But you're gonna see a lot of the vendors that you would typically see at our Chicago show, at our Philly show and are gonna come to our Anaheim show. The Metropolises, the Neat Stuff Collectibles, those kind of guys that carry vintage material, comic book art and those kind of things.
CBD: Why finally, Toronto for a show though? For the last couple of years, it's been mainly just purely Fan Expo. What brings you guys back to Toronto now?
Stephen: It's been purely what?
CBD: It's just been one show; it's just been Fan Expo. So why Wizard. Here. Now. (David: I honestly have no clue how I managed to forget about the Paradise Convention given the number of sketches I've gotten at them before.)
Stephen: Peter always ran a great show in Toronto. His show won International Show of the Year for five years in a row. He's always run a great show there. People liked his show. People respect him, he's well respected in the community, he's on the ground and this is not a situation where you have an American company coming in trying to impose itself. This is definitely a situation where; Peter is from Canada, he's done a show that people have really liked and we just wanted to bring that back.
CBD: That's good to hear. Is there going to be any effort to showcase Canadian talent at the show?
Stephen: Absolutely. We made it a very concerted effort- I'm very glad you asked that. We made a concerted effort to reach out not only to the Canadian community in terms of artists and writers and creators but also television talent, there's a lot of TV shows that are filmed up there. Also there are people like Luciana Caro and Margot Kidder who are from Canada who are gonna be guests at the show. So Luciana is actually from Toronto. Margot is from a different part of Canada but she insisted upon coming to the show to sign autographs, because she's from Canada. So, we are making a concerted effort to get talent that is originally from Canada or is working in Canada now so that they definitely have a hometown feel there.
CBD: Excellent, it sounds like you guys are doing a really good job of getting prepared for the Comic Con. Thanks for all your time today, Stephen.
Stephen: Just as a final thought. I just wanna say that we are very excited actually to be in Toronto. I have to tell you, going through the process of just doing this for the first time in Toronto. I have to tell you it's been an exciting process. Peter's great to work with, he's very well liked and he's very well respected and he's going to be continuing to work on the show to keep that local feel, that local flavor to the show. And we really believe that we're gonna put on a compelling event that people are gonna enjoy. We really do. So it's something we're looking forward to.
CBD: Excellent, well, we hope to talk to you later again once we get closer to the show date Gareb. Thanks for all your time today. (David: Yes, I accidentally called Stephen by his brother's name)