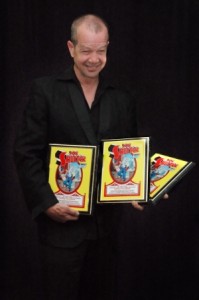 Darwyn Cooke is a bit of a rarity in this business. For one thing, he's a superstar in a field with very few superstars.  Let's face it, with the exception of maybe Jim Lee and Alex Ross, there aren't many people who have the crossover appeal of Darwyn Cooke. Having started in comics in 1985 with a short story in New Talent Showcase #19 Cooke then turned his attention to graphic design and art direction. He gave the comics world another shot when he started working as a a storyboard artist for Batman: The Animated Series and Superman: The Animated Series, which in turn got him the oppurtunity to design the main title design for Batman Beyond, something that I can remember watching fervently as a kid and being totally drawn in.
In 2000 he wrote and illustrated Batman: Ego; a fairly ambitious story that Darwyn himself described as "What if Batman and Bruce Wayne were able to sit down and talk about what it is they do?" It's a brilliant story that earned the critical acclaim of Alex Toth (something that's been known to be quite hard.)
My first exposure to Cooke was when he and Ed Brubaker revamped Catwoman bringing a noirish vibe back to the character, as well giving her a revived cast of characters that included Detective Comics' original big name Slam Bradley. (A Character that remains obviously very close to Cooke's heart.) He also wrote and drew the award-winning graphic novel prequel to their Catwoman run – Selina's Big Score.
Cooke's next project was the ambitious DC: The New Frontier (2004), a six issue miniseries which sought to tell an epic storyline bridging the gap between the end of the golden and the start of the silver age of comic books in the DC Universe. The story, which was set in the 1950s, featured dozens of super-hero characters, drawing it's inspiration from Tom Wolfe's The Right Stuff and James Ellroy's American Tabloid. It won won the Eisner Award for Best Limited Series, Best Coloring, and Best Publication Design, the Harvey Award for Best Artist, Best Colorist, and Best Continuing or Limited Series. And the Shuster Award for Outstanding Canadian Comic Book Cartoonist (Writer/Artist). The New Frontier rocketed his name to the very top of the everyone's top ten list. He even got the daunting task of being the first artist to take over Will Eisner's beloved comic series The Spirit for 12 issues.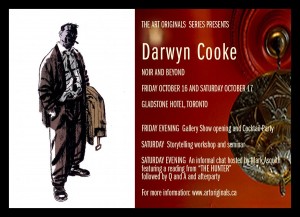 For the past few years he's been working on adapting Donald Westlake's (writing as Richard Stark) seminal noir series of books starring Parker, a hardened professional thief with his own code of honor. He's a fairly unlikeable character who's compelling as all hell to read. Cooke's adaptation of The Hunter was released to critical acclaim and is being considered the front runner for the Eisners this year.
We caught up with Darwyn at Art Originals' exhibit showcasing his art from the last 20 years. The exhibit, titled Noir and Beyond: The Darwyn Cooke Exhibition was held at the very swanky Gladstone Hotel in Downtown Toronto.When we asked Sean Menard (one of the minds behind the exhibit) about why they chose Mr Cooke as their inaugeral guest he had this to say: "When considering who we wanted to bring to Toronto for the first Art Original Series, we were looking for a creator that had appeal outside of the traditional comics scene. We were clearly hoping to expand the existing demographic for this type of show. Darwyn fit the bill 110%."
Sean reinforced the notion of Darwyn's importance in the Canadian Comic Book scene pointing out that "[he] has demonstrated to both fans and creators time and time again that the playing field is equal for those north of the U.S. border if they've got the talent and work ethic. He completely immerses himself within every project he takes on and certainly doesn't have to work in comics. Quite simply, it is his chosen profession. He LOVES the medium and its potential. Darwyn's career accomplishments are a cause for celebration for today's Canadian fans and an important benchmark for the Canadian creators of tomorrow."
Darwyn held court signing everyone's books all while telling stories, answering questions and cracking jokes. He took time out to have a little chat with us about Parker, Crime and Comics.
ComicBookDaily: How Many books are there going to be in total? There's over 20 Parker novels.
Darwyn Cooke: I'm looking at doing four, and… we'll see how that goes. Four is a lot.
CBD: Which particular four?
DC: Well, of course, we've done the Hunter, and the next one will be the The Outfit, we're going to take a bit out of The Man With The Getaway Face to make a prologue to The Outfit. Getaway face isn't the best book..
CBD: It's not, but it's fun.
DC: Yeah, it's like a bridge book, where he's trying to figure… he wrote a novel and then an editor asked him to make it a series and I think that second novel is him trying to figure out what he's going to do it. And then the Outfit, I think  it really gels.
CBD:I know with [Westlake], He never planned anything out, it's just him going crazy..
DC: It's ridiculous, the guy just sort of sat down everyday and started writing.
CBD: It's almost like he was trying to purposely write himself into a corner
DC: He did it constantly. He's a fascinating guy to talk to. He's really like  vessel for these three or four voices. That are so completely distinct.
CBD: Between Parker and the Dortmunder ..he is really is interesting in how he tackles things specifically in terms of storytelling and you're kind of a similar way. I mean, with this novel you have a more straight forward and then it switches half-way through.
DC: it's funny because everyone one of the books is four books long same number of chapters and he always switches the POV in the third book to one of the secondary characters and then goes back to Parker. He always did the same thing where he leads the story to a certain point and you go oh jesus and then he takes it back to where a certain character got to that point and then the fourth book takes you to the end. and he took that formula and took himself into that corner and found a way to be imaginative within in over and over again.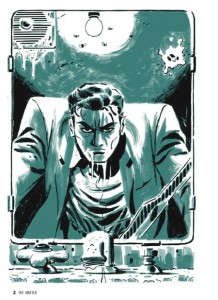 CBD: ….with The Hunter you have a blue colour scheme are you going to switch it up for the next one?
DC: Yeah, each book will have a different colour.
CBD: Okay, so off Parker for a second. Before Parker was announced you had said that you wanted to do a fairy tale type story but with gigantic robots. Any plans in the future?
DC: Yeah. I've been trying to find the proper artist for the book actually.
CBD: Oh really you don't want to draw it yourself?
DC: I think it's a book that.. I don't think I'm the ideal artist. Right now i'm actually I've been talking with John Buscema's granddaughter Stephanie Buscema, Who's a brilliant artist in her own right, who does really wonderful, funky children's book paintings she's an incredible talent – nothing at all like her Grandfather's work, but the same skill and talent. She just did a story for Marvel…
CBD: What's that do you know?
DC:It's a one of those books like Colleen Coover does..
CBD: Like a back-up?
DC: Yeah, like Spider-Man and the Lizard and a few others.. but like kid..  She;s really brilliants we've been talking about maybe tackling it. She really loved the story when I told her it.
CBD: In the foreword to Jeff Lemire's Collected Essex County graphic novel you talk  about how Canada's really known for it's autobiographical comics, but you sort of see yourself as more of a 'genre' guy. But in (DC's ill-fated anthology comic series) Solo you did this great story about how you discovered drawing… art. So, I think you could do it.
DC: Oh I think i could do it!
CBD: [Laughs] Oh right..
DC: I just don't have any interest in it. I don't think my life is of interest. I don't think Seth's life is that interesting either, but the way he tells it… fortunately yeah, he's got the skills to make it appealing. But yeah, I've never  had that urge, or that need. I mean everything you do is autobiographical on some level. Even if it's a Spider-Man comics, y'know? Generally if you're a writer you're going to pull your characters out of people you know so Yeah, the guys are always on me for this y'know like you're not legitimate unless you've done the story about the uncle who touched you. I just don't really have that in me.
CBD: Fair enough
DC: I always say I'm not Adrian Tomine, I'm John Mctiernan call me when you want to shoot the lights out.
CBD: [Laughter] Fair enough. So what are you reading right now? What's really grabbing you.
DC: Criminal. Criminal is the best comic book out there right now. Absolutely nothing comes close to it as far as I'm concerned.
CBD: What did you think of Incognito?
: Incognito was good. But it's cut with this superhero hero stuff. I thought Ed [Brubaker] was really smart in the way he grafted the old pulp characters into the story. It's still a great story, I think Zack Overkill was an awesome guy and i loved it. but it's not criminal.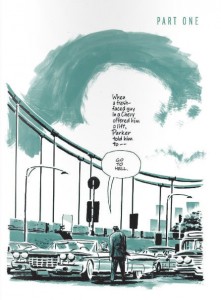 DC
CBD: It wasn't.. but you could almost make it into Criminal story if they ditched the masks and instead of getting punched through walls they just fell on the floor.
DC: Well, they could almost do that one rift on the superhero in criminal if they wanted to but I think it made sense to section it off. I'll tell you though – I love Sean[Philips]'s work, I'll tell you those Incognito covers, Sean if you're listening and you still have the cover to issue one, I'll buy it.
CBD: I'm actually trying to buy the splash page of Criminal season two issue one…
DC: The Dead and the Dying?
CBD: Yeah, that's the one.
DC: See that one was a very Westlake-ian story he told there because it's got that three POV stories, stories rolling at a different rate..
CBD: Well, we won't take up anymore of your time, thanks very much for the interview.
DC: Oh sure, my pleasure.
We wrapped up our interview there, but stuck around and talked more about comics and plans for the future. We'd like to thank Darwyn for taking time out to let us interview and fawn over him. He's a great guy and the success that he's earned is well deserved. You can check out his kind of, almost blog here (maintained by the fine folks at Strange Adventures – the store where I bought my first comic book ever) and keep your eye on the Art Originals website, as the success of their first big exhibit will no doubt lead to many more.
Pete DeCourcy is a regular contributor to ComicBookDaily.com, he's also a large fan of crime in general. You can check out his blog The Simple Art of Crime.