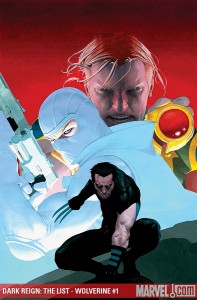 Some people are born to write certain characters. Garth Ennis understands what makes Punisher tick, Dan Slott writes the most compelling Spider-Man, Ed Brubaker and Daredevil were made for each other. Jason Aaron gets Wolverine in a way that no other writer ever has. That isn't to say that other writers can't write a great Wolvy, it's just that Aaron writes Wolverine in a way that honors everything that came before hand without falling into parody. His Wolverine is the hard drinking Canadian samurai with an unbreakable skeleton and claws with a busy schedule and impeccable organization skills that we all know and love, but Aaron knows exactly how to write Logan without him falling into similar tropes.
Whether it's taking on a group of Triads (one of whom can punch his soul) or hunting down Mystique in Afghanistan he's always talking exactly as Logan would talk, acting as Logan would act (seriously, the climax to the mid point of his first arc on Wolverine: Weapon X had him actually running away from his foes.. and it made total sense.)
So while The List one shots so far have been hit or miss, I've been waiting patiently for this issue for a while. Aaron himself described this one shot as being a chance for him to "play in [Grant] Morrison's sandbox." Aaron's issue focuses on the Weapon Plus facility The World, first introduced during Grant Morrison's run on NEW X-MEN, and teams the writer with veteran WOLVERINE artist Esad Ribic. Aaron also sinks his claws into as many of Morrison's toys as possible to play with—including Fantomex and Marvel Boy.
The issue is really fast paced, and the set up as for why Norman Osborne would want to get his hands on The World is handled in one word balloon on a beautiful splash page. The rest of the issue continues at this pace, with Marvel Boy and Fantomex delivering beautiful one liners that deliver expository dialogue that entertains as well as develops the characters for those of you who aren't familiar.
I love Jason Aaron, he's really a fantastic writer who totally understands characters in a way that is totally unique. I cannot recommend this issue enough.
Peter DeCourcy is a contributor to ComicBookDaily. He Manages Blue Beetle Comics in Barrie, Ontario. You can find him on his other website: The simple Art of Crime.