Collecting Raw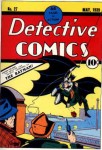 The one – two punch of CGC (the dominant grading company for comic books) and comic book auction and listing websites has created a torrent of commerce over the internet for graded collectible comics. Record prices are being set as quick as the comics can be listed.
People should remember though that not even 1/10th of 1 percent of comic books are actually graded. CGC celebrated it's one millionth 'slab' recently but this is just a drop in the ocean of the comic books out there. Raw (ungraded) is still the way most collectible comics are bought and sold.
Auction closing prices establish a market value for a 3rd party graded comic but there is no formalized way to track sales of raw comics and even if there was who could be certain of the accuracy of the grade reported. So what about the values for raw comics? The Overstreet Price Guide is still the main reference for these values. Realized graded prices do have a strong influence in the high end of the raw comics spectrum but consensus on grade is always an issue.
The hard part about collecting raw comics is getting a consensus on grade. Some defects make it very tough to assign a grade – take a beautiful comic with a large piece out of the back cover or a gorgeous copy with a water stain on the bottom corner – these types of comics are a lot harder to grade than say a comic that has uniform wear on it. The possibility of restoration is another factor and should always be considered and watched for (see Collecting and Investing Tips #7 for a quick restoration tutorial). The buyer and the seller both have to agree upon a grade before there's any real chance of a deal happening. In many such transactions it's possible that neither party actually know how to properly grade a comic. These billion combinations of potential problems are why internet trading of raw comics has not taken off to the same extent as internet trading for graded comics has.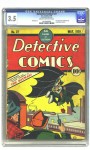 This week's tip is to keep your buying of raw comics from the internet to a minimum. If you are buying online, go to trusted vendors and sellers with good feedback and return policies. The bulk of your raw purchases should be made at conventions and at local comic stores. A scan is no substitute for holding the comic book in your (clean) hands. Get second opinions from people who know a bit about grading if possible.
You are the boss. On very expensive comics like say a Fantastic Four #1 a full grade may mean the difference in value of thousands of dollars (ten's of thousands in the higher grades) and even on more modest priced comic books in ultra high grades the difference between say a 9.4 grade and a 9.6 grade may still be a lot. Be cautious when in these special circumstances. I've seen purchases dependant on the comic being sent to CGC with both parties agreeing to make the deal based on the returned grade. In a few cases the buyer cracks the case open as soon as he buys it. In this example CGC was used only to settle a dispute over grade.
Luckily though non of this even matters when you're hunting down that elusive ROM the Space Knight #17 or that needle in a haystack that is DP7 #3.