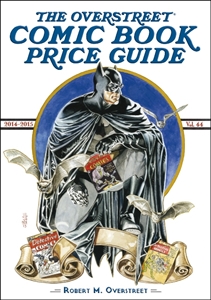 The 44th edition of the Overstreet Comic Book Price Guide came out several weeks back and I'd like to take this a bit tardy opportunity to chime in with some thoughts.
For comic book collectors the Overstreet Comic Book Price Guide is the one resource that is needed above all others. It remains the "Bible" of collecting.
I've done a few comic cons this year and I'm happy to report that I see the Guide carried around by lots of collectors, those that don't carry one often ask me if they could look at a guide while considering a purchase.
While it remains an indispensable tool for collectors I'd like to point out that the Guide could be much more. The fact is your Overstreet Guide can open doors of opportunity. Imagine you are sitting in a high end restaurant leafing through your Guide and you spot a Fortune 500 CEO at the table next to you leafing through his. Yes the Guide can lead you to the water, the rest is up to you.
So the Guide can open doors, but did you know it can keep those doors open? The Guide is getting so big and thick these days it conveniently doubles as a door stop.
When I get my copy the first thing I do is look for the Big B Comics ad, and this year it is on page 247. We share the spread with Dan Gallo, Hi Dan! Hope your ad brings you lots of comic art business. Please note the ComicBookDaily spread at the bottom of the Big B ad.
This year the Walt Award for Best Guide Ad goes to Ted VanLiew of Superworld Comics, page 41. I always thought Ted had rocks in his head, turns out it was comics. Anyway it explains a lot.
The market reports this year were full of great insights most of us advisors took the time to report what we saw and felt. Publisher Robert Overstreet was 1st up on page #89, you are preaching to the choir Bob.
The Big B Comics report by Marc and me can be found on page 160.
This year I was smart, I made sure I had a good night's sleep and enjoyed a hardy breakfast before reading Doug Sulipa's report, this way I didn't have to break for food or rest. Doug comes in this year with almost 11 epic pages.
My favorite part is always the Top Comics section of the Guide (Page #170). Here are some thoughts on what I saw;
Superman #1 is overvalued and still forging ahead
The most valuable non hero comic is Pep #22 at #11 worth $175,000
The most valuable non character based comic is Detective #1at #24 $94,000 in VF
A thirds of the top 100, 32 comics actually owe their value to Superman or Batman
Action Comics appears 15 times, the most of any title
Why is Suspense #3 worth so much?
There are only 3 Funny Animal books left on the top 100 list, only WDC&S #1 cracked the top 50 at #46.
Early comic books continue to do poorly; I think there will be a re-found interest is the early books like Famous Funnies as we start to see the 100

th

 anniversary of the modern comic format appearing on the distant radar.
What on earth are we going to do with books like More Fun #52, 53, Adventure #40, 48?
Why are books like New Fun #2, All Star #1, Detective #3 and Superman #3 even on the list?
Hey people of Overstreet, please expand the Silver Age to 50 books, these things control most of the back issue market after all.
AF #15, $200,000 – nice!
Showcase #4 still too much.
Showcase #9 has to go, I thought it would be gone by now but it continues to annoy me.
Do you think Detective #27 will eventually overtake Action Comics #1? Poor showing by books like Famous Funnies shows that symbolic books can only go so far, in the end it's really about the character.
FYI Amazing Fantasy #15 is still the 9

th 

most expensive book just ahead of Detective #31 but behind Action Comics #7.
I still think Fantastic Four #1 should be worth more than Hulk #1.
Journey into Mystery #83 shot up 25% and I thought it was overvalued last year. As I've mentioned before, Thor is an adaptation into Comics of an existing character. Yes he is done the "Marvel Way" but still…
Bronze Age should go to the top 20, it really should be Top 20.
I hate the Star Wars #1 and Iron fist #14 price variants and yet they were the 2 biggest winners in the Bronze Age! I mean one cover says 30 cents and the other says 35 cents. This mental block has probably cost me thousands of dollars as I keep avoiding investing in these on the assumption that the stupidity will end.
Hulk #181 should be worth more than Green Lantern #76 and why is Amazing Spider-Man #129 still not worth as much as DC 100 Page Super Spectacular #5? Is it the power of love?
House of Secrets #92 does not belong in the Top 10.
Which of the books on the Copper Age list is an actual regular release comic book in the comic book format?
Platinum Age? What's that?
Can something be deader than dead? Try Westerns.
We need a top 10 Magazine format section.
How about a Current – 21

st

 Century top 10 list? Or perhaps it could be the post 90s crash era when comics came back from the brink. The Phoenix Era?
Thanks and praise to Mr. Overstreet, Mark Huesman,  J.C. Vaughn and their team. A personal thanks to them for believing in the WECA (Canadian Golden Age comics) essay my colleague and fellow comicbookdaily.com writer Ivan Kocmarek submitted. Praise is due to all the special contributors including Ivan Kocmarek for his great aforementioned WECA essay at the back of the book. The 44th edition of the Overstreet Comic Book Price Guide is available at fine comic shops everywhere.
The covers!