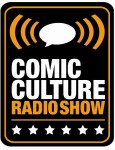 Great show this week! Hosts Chris Owen and Walter Durajlija welcome Canadian comic book legend Richard Comely to talk about comic book original art, the Spider-Man musical, the Thor movie, graphic novels, Marvel's MMO game, Free Comic Book Day and of course all things Captain Canuck! Now kick back, relax and enjoy  Comic Culture, the radio show full of possibilities.
Comic Culture is produced by Anthony Falcone and is engineered by James McIntosh.
Enjoy Comic Culture May 11th 2011 Edition.