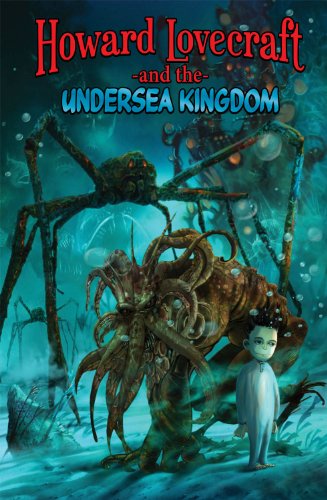 Writer: Bruce Brown and Dwight L. MacPherson
Artist: Thomas Boatwright
Letterer: E.T. Dollman
Cover: Erik Fokkens
Publisher: Arcana
H.P. Lovecraft was arguably one of the foremost important horror writers of the early twentieth century, impacting the development of writers who would follow his path such as Stephen King, Neil Gaiman and Alan Moore. Seventy-five years after his death, Lovecraft continues to exert influence over contemporary literature, in this case more directly than any other in Brown and MacPherson's adaptation of Lovecraftian elements in Howard Lovecraft and the Undersea Kingdom.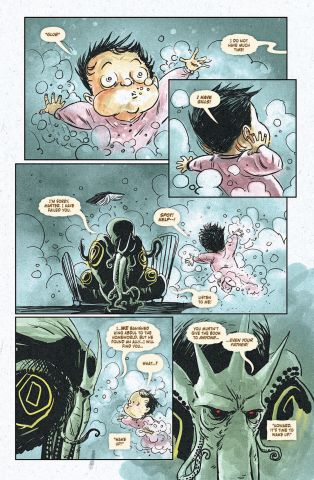 The graphic novel features a young Howard Lovecraft living very much in the kind of reality the real Lovecraft fashioned for his readers during his lifetime. Brown and MacPherson's Lovecraft comes alive within the very active imagination of the young boy, injecting pure fantasy elements into their work upon the trade's opening salvo of Lovecraftian dream imagery. The story re-enters reality momentarily however upon Howard's awakening from his sleep by his mother who orders him out of bed and to get ready for school. The opening chapter jumps between Howard's reality and that of the kingdom of Cthulhu; it's where context to the greater relationship between Lovecraft and Cthulhu's kindgom takes shape, weaving a tapestry of interconnected plot strands into the beginning of a fantastic adventure about a young boy and his faithful friend. Working against Howard though is King Abdul who has captured his family and transported his childhood home to another dimension. This leaves Howard to scramble with his comically enjoyable band of friends including Constable Smith and "Spot" as they attempt to save Howard's family and prevent Grimm's fairy tales from falling into the wrong hands, all the while Howard gradually transforms into a sea creature.
The story itself is very lighthearted in tone and succeeds in crafting an easily accessible Lovecraftian story youth audiences can delve into and enjoy not necessarily as fans of Lovecraft's work, but as appreciators of the comic book genre. The work doesn't feel overbearing in its celebration of Lovecraft and can easily be followed and understood by the Lovecraftian layman, making it a great introduction to the genre and to Lovecraft's concepts for any reader. The characters are fun, engaging and interesting, offering a quirky tone to character interactions such as those from Howard's father or Constable Smith. They provide more than enough comedy to lighten the mood of the story, complementing Lovecraft's basic tenets by ensuring readers of any age can pick up Howard and the Undersea Kingdom and enjoy its story. In that respect, the graphic novel also dually works as a primer for Lovecraft's writing should readers be interested in digging further into his life and works.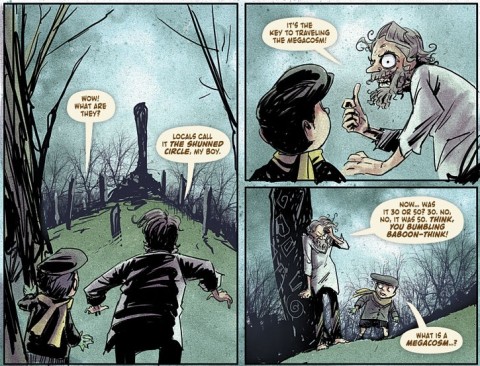 Boatwright's art reflects both moods very nicely. He succeeds in capturing the tones presented both in the source material and Brown and MacPherson's plot, melding it with an art style that lends itself to the dialogue's darker comedic elements. They play off each other very well, with Boatwright's art shifting between more colourful locales such as when Spot is searching for Howard through different dimensions, and darker ink-work throughout the book which paints a bleakness in contrast to its lighter moments. The art's pencil work is strong, but its strength more so rests in its inks and colour palette, both of which make the artwork what it is: a visual array of wonder that makes you laugh, step back in shock, or flat out force you to pause as you consider the mess poor Howard finds himself in. The gravity of their adventure is ultimately captured in the final page, as Howard and Spot find themselves struggling to find their way home.
Howard Lovecraft and the Undersea Kingdom is a strong adaptation of the source material. It can be followed and understood by any reader, regardless of the extent of their Lovecraftian knowledge. It offers an experience that caters to young readers but can be enjoyed by fans of Lovecraft in the same way IDW's Kill Shakespeare can be enjoyed by Shakespearean scholars. Its horror and fantasy elements are present throughout, injecting a measure of youthful comedy that results in a great addition to the comic book genre and presents Lovecraft in a new way for the 21st century.