Writers: Conor McCreery and Anthony Del Col
Art: Andy Belanger
Colours: Ian Herring
Letters: Chris Mowry
Cover: Kagan McLeod
Publisher: IDW Publishing
Kill Shakespeare has taken the comic book world by the storm this year, gaining accolade upon accolade from most news outlets. Does this issue hold the fort? The answer would be…
Synopsis
Featuring characters from William Shakespeare's famous plays, Kill Shakespeare pits his greatest creations against one another in a fully cohesive, interactive environment defined by love, tragedy, comedy and more treachery than you can shake a quill at.
What's the Story?
Picking up where issue six left off, Iago and Lady Macbeth flesh out their plans for Richard, Shakespeare and how Hamlet figures into it all. Meanwhile, a traveling play group makes their way into Shrewsbury, where Juliet, Hamlet and her prodigals rest a while longer after their encounter with Richard's men. Sir Toby and Feste ride at the front of the group, talking about their last trip into the town. Feste tells him there's reason to perform for the town this year.  Lysander arrives to greet them, engaging Toby in verbal jousting before a short duel in jest. Lysander enlightens them about recent events with the prodigals, specifically relating to Hamlet much to Festes' own intrigue.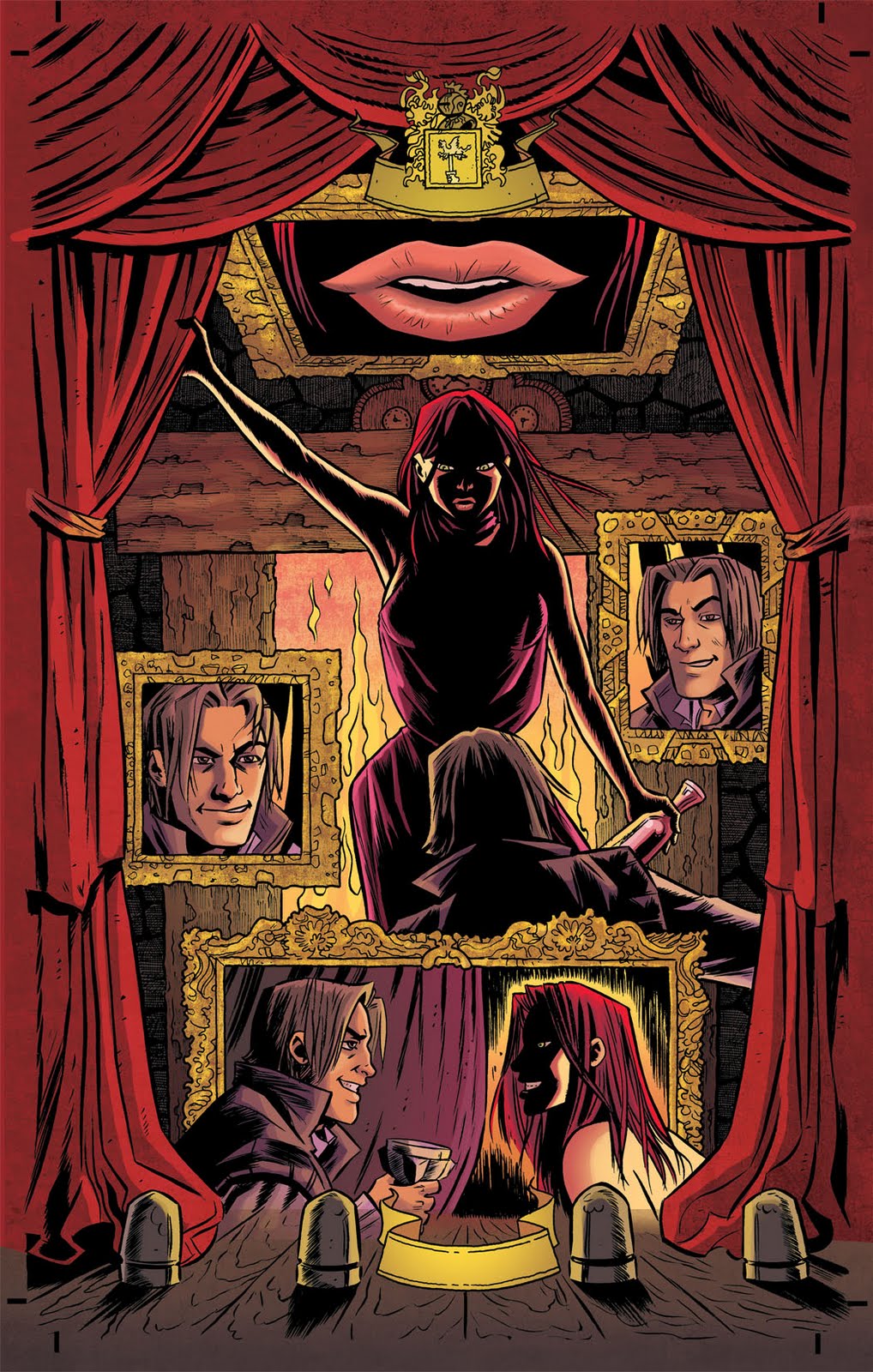 Later, Juliet, Hamlet and their companions attend a festival where the traveling troupe happens to be performing at. Adriana arrives and requests a dance with Hamlet, but as they're dancing, Juliet and Hamlet's eyes lock. Festes notices Lady Capulet's presence and invites her onto the stage, but Juliet pushes Hamlet onto the stage in her place. Hamlet takes part in a reenactment of a familiar subject; his own story plays out in front of his eyes to his discomfort. After a time, Hamlet can take no more and runs off the stage, Festes referring to him as the Shadow King as he does so. Juliet follows him into a house of mirrors, where she apologizes to him for forcing him onto the stage. They tell each other their stories, sharing a moment of true friendship and pledging to learn from their blessings and damnations.
The issue concludes mysteriously with a conversation between Feste and Toby about Hamlet, perhaps hinting that not all is what it seems with Feste.
The Pretty, Pretty Pictures
There are two running themes throughout the issue where the art is concerned. First, there are stage curtains along the sides of select pages and across the top in several instances, notably during the opening scenes with Lady Macbeth and Iago, during the town celebration, and during Juliet and Hamlet's conversation at the end of the issue. They are less conspicuously placed during the play itself, but are not red as the former examples are. What's also interesting is the final panel where Feste begins to draw his tent curtain shut. When considering the motif throughout the issue, it seems strange. This perhaps alludes to a greater connection between the mentioned scenes as part of a larger play and Festes' connection to them.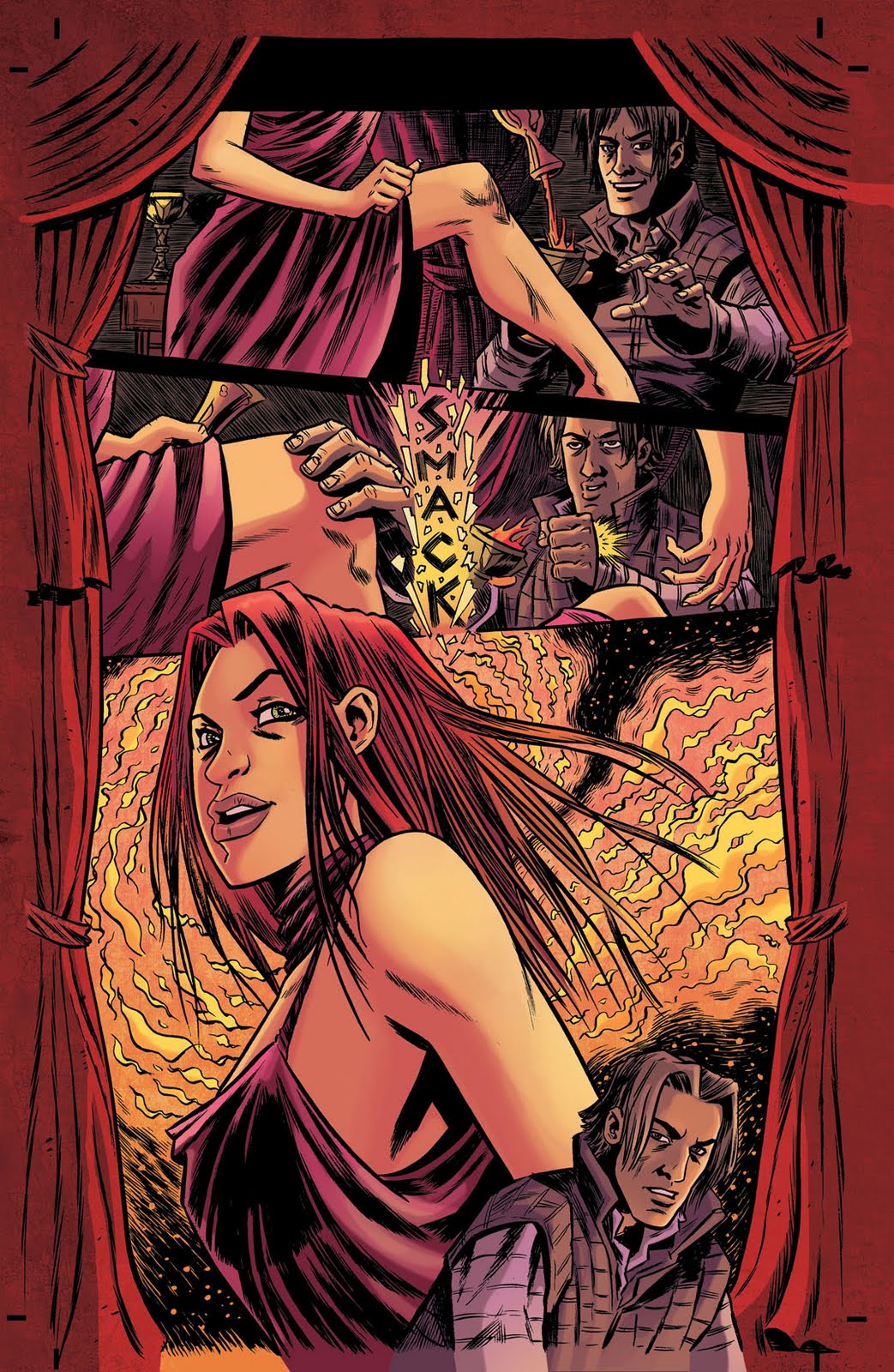 The second running theme throughout the issue are the use of picture frames to frame the characters in a given panel, deviating from a less obvious border system from most comics. I'm not quite sure of its purpose, but it's almost as though the technique is being used to highlight or emphasize a dynamic of that scene. The same technique is used during the festival scenes where Adriana and Hamlet dance. Belanger uses the frames to snapshot expressions of a character or those specific moments. Using the festival scene as an example, we follow Hamlet and Adriana as they dance, eventually capturing an exchange of gazes between Juliet and Hamlet.
The best sequences in the book however are saved for the scene in the fun house where Juliet and Hamlet confide in each other their pasts. Using the mirrors as a reflection of their memories, the words of their tragic stories play out in the fun house mirrors in front of our eyes. Mirrors by large reflect the inner-most sanctum of ourselves; we often fearfully shy away from metaphorically looking into a mirror for what we may find. Yet, these two characters find solace in one another with the metaphorical representation of vulnerability as their backdrop. It's nicely done, and as they close their conversation the mirrors fade to black leaving only Hamlet and Juliet alone with each other, only separated by a final barrier.
Altogether the art is solid again, moving well beyond the unconventional standards set in the earlier issues towards something altogether dazzling in its creativeness.
Final Thoughts
Issue seven of Kill Shakespeare has arrived and apparently so has the romance between Hamlet and Juliet. The issue primarily serves to light the fire of their relationship beyond an ember. We see hints of the blossoming kinship during the Twelfth Night celebration, but Feste's play is the trigger that places the lovebirds in an emotional position where they confide in each other their pasts. There is however a large, loud elephant in the room. I've been waiting for Romeo to show up the entire series and if the preview for issue eight is to be believed, he will make his return to Juliet's life in the near future. With their romance in the early stages, I wonder how his return will affect Juliet particularly. Also, how will this strain the blossoming relationship? If you've seen Del Col and McCreery's TIFF Pitch This! presentation, you're aware a familiar balcony scene will be replayed between Hamlet and Juliet, with a minor twist. Romeo's arrival definitely throws things into flux, but what I've been curious about through the entire series is where his allegiance will ultimately rest when things come to a boil. Will he be content with the blossoming relationship between the two and join Juliet's revolution, or will he join Richard's ranks and expand the tragic element of Romeo and Juliet's love story?
This issue also introduces the Twelfth Night jester Feste and his traveling acting group. What's interestingly mysterious however is how he could have known Hamlet's story. This raises questions as to his identity despite being an actual Shakespearean character, especially with his knowledge of Hamlet's role as the Shadow King. With Feste as the focal point of the cover, with wanted posters on a wall in the background, his role is potentially much greater than simply an actor in a traveling troupe.  Moreover, nice beard.
There's some serious story potential posed by the issue that's just begging to be addressed. The Romeo and Juliet story is obvious, but then there's also the matter of Richard and Lady Macbeth's shaky alliance, Iago's true allegiance, Hamlet's role in the greater scheme, and the mystery of Shakespeare and his role in the story.
The issue forces us to ask many questions of the Shakespearean universe, leaving a sense of wonder and intrigue for the next issue. It's a nod towards the book's solid writing, when you're left asking those questions. It's been a strong point of the series, and I don't recall reading an issue and not looking intently to the next piece of the story. With some of these questions being addressed in the next issue, it'll be interesting to see where the story goes next.
Oh, and yes. The answer would be yes.