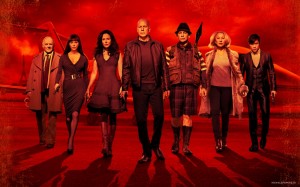 RED 2 is the sequel to the unexpected hit RED, which is based on the comic book by Warren Ellis and Cully Hamner.  RED 2 features the superstar cast of Bruce Willis, John Malkovich, Mary-Louise Parker, Neal McDonough, Byung Hun Lee, Catherine Zeta-Jones, Brian Cox, Anthony Hopkins and Helen Mirren.
RED 2 continues the story from it's predecessor.  Frank Moses (Willis) is enjoying retirement from being a top level spy.  But his girlfriend, Sara (Parker) is bored and is desperate for action in their lives.  Then Marvin Boggs (Malkovich) comes back into their lives and informs them that they might not be retired for long, as multiple government agencies are after them.
It is soon revealed that this trio are embroiled in a globe-spanning mission to try and clear their names, before a global terrorist plot is unveiled.
Pretty soon everybody will realize that you can be Retired… and remain Extremely Dangerous.
RED 2 is a fast paced, high octane spy action movie that combines kick-ass action, with laugh-out-loud laughs.
The cast is exceptional in this movie, and the addition of Catherine Zeta-Jones as a former love interest of Frank Moses adds more depth to the character, and outlines his past before he retired.
Like all great spy movies, there are twists and turns in the plot and subterfuge and deception are at every turn.  One minute, you know who the villain is, the next they are our heroes ally.
One of my favourite surprises in the movie as the addition of Lee Byung-hun to the cast as Han.  A dangerous assassin who is hired to kill Frank Moses and his team.  Byung-hun portrayed Storm Shadow in G.I. Joe Rise of Cobra and Retaliation.  RED 2 really shows his acting and action skills.  He gets to deliver some great hard hitting lines, as well as some hard hitting chops.
Helen Mirren's character Victoria, gets into the action more in this movie showing that her "Martha Stewart persona" can switch and she can channel her inner "Sylvester Stallone" when she has to.
RED 2 is a fun summer action movie with big explosions, big gun-fights and big laughs.
If you haven't seen either RED movie yet, I highly suggest checking them out.  It's just pure action movie fun.
[youtube http://youtu.be/HcVkavITnAI]