I haven't been following the auctions at Hakes Americana & Collectibles because I find their categories confusing. Their recent Auction #209 – Part II that ended August 25th had a good haul of original comic and comic strip art, enough for me to finally learn the ropes and navigate their site.
There was a very diverse selection in this auction but these five pieces of original art caught my eye.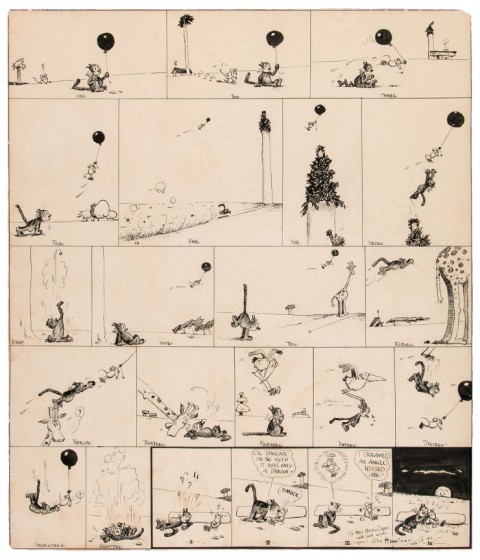 Krazy Kat Sunday April 30 1916 by George Herriman sold for $26,565. Source. This is the second published Krazy Kat Sunday and a significant piece of comic strip history; plus it's a gorgeous example of Herriman's work.
Advantage Buyer. This is cheap: later Sunday originals last year were selling for the same range, with a 1918 Sunday at $33,471.95.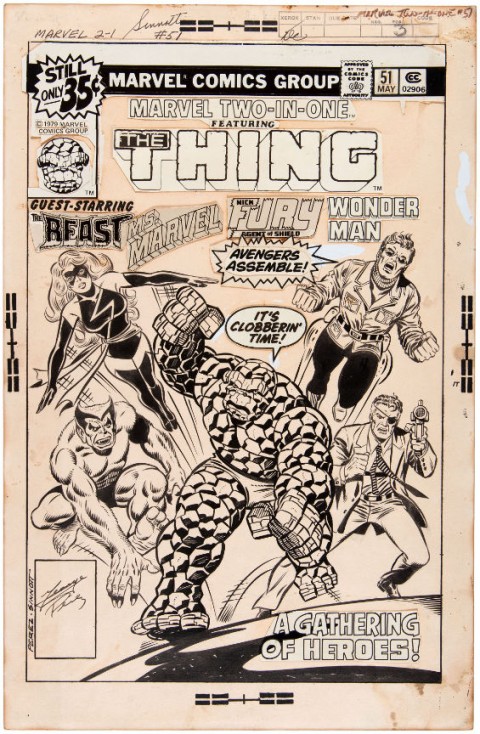 Marvel Two-In-One issue 51 cover by George Perez and Joe Sinnott, 1979, sold for $25,370.53. Source. A niece cover featuring a variety of characters at the end of the bronze age.
Advantage Seller. I'm completely baffled by this. It's so far out of the realm of similar auctions: I believe this is the second highest price ever paid for a Perez piece of art, beat out by Crisis On Infinite Earths issue 12.

Fort Hamilton Torchy strip by Bill Ward, 1942, sold for $759. Source. Done during Ward's stint in the army for the military paper. Classic humour with a heavy inuendo but clean on the surface.
Advantage Buyer. Original Ward Torchy strips don't come up that often, and the last ones from 2009 were in the same price range.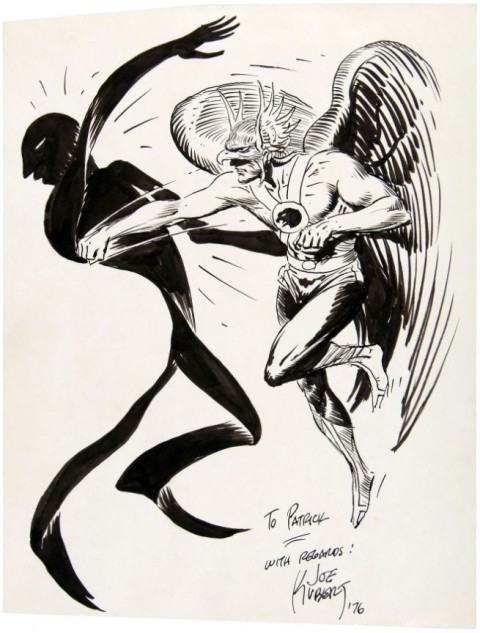 Hawkman Punching The Shadow Thief by Joe Kubert, 1976, sold for $831.10. Source. A nice inked sketch for a fan with an original Hawkman villain, however lame he may be.
Advantage Buyer. Clean, well illustrated piece at the height of Kubert's abilities.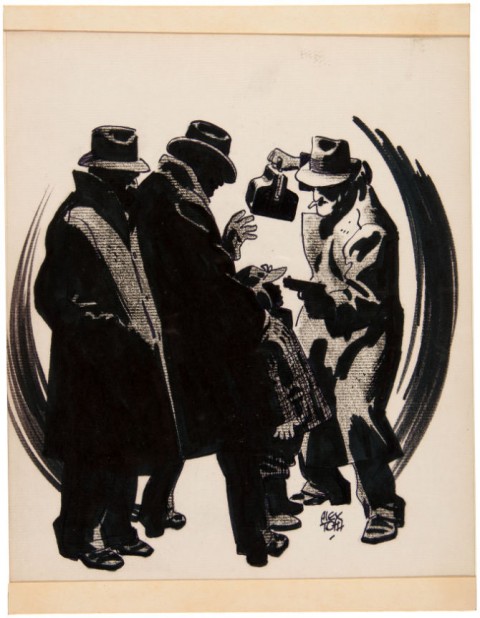 Gangster Stick-Up by Alex Toth, undated, sold for $576.84. Source. Nicely composed 8×8″, great use of shadows and composition.
Advantage Seller. Hard as it is to believe, smaller sketches like this don't command much. I believe this loses Toth's core fans because of the dramatic style difference from his normal comic work: clean lines and inks being the norm.