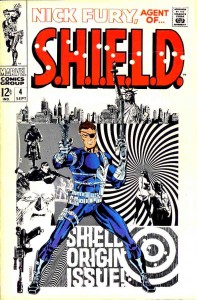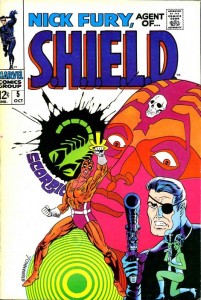 Nick Fury, Agent of SHIELD #4 and #5, Marvel Comics, September and October 1968
This week I'm happy to have a guest Undervalued Spotlight contributor. Our good friend Mike Huddleston has submitted not one but two comics for our pleasure.
It's funny, Mike emailed me with a an idea of doing one of these books and I loved the idea, I've always been a fan of both books, the Steranko style and the tough in high grade lily white covers are just the start with these books
Sure enough a day later Mike emails back saying "I can't pick between them"! "I have to do them both"! I said "fantastic!"
Mike is always convincing with his spotlights, his Undervalued Spotlight #145 is one of my favorite Spotlights of all, his love for comics bursts off the page, and his arguments are sound!
Enough talk from me, let's give the floor to Mike, take it away my friend;
 – Our undervalued spotlight today features two cool comics and one great artist, Jim Steranko, from one of my all time favourite Marvel runs: Nick Fury Agent of S.H.I.E.L.D #1 thru #7.
Our first spotlight today is on Nick Fury Agent of S.H.I.E.L.D. #4 Sept.1968, cover by Jim Steranko, written by Roy Thomas, and interior art by Frank Springer. Nick Fury and S.H.I.E.L.D. were created by Jack Kirby/Stan Lee back in the mid-sixties as a James Bond meets the Man from U.N.C.L.E. character and organization. Tony Stark recruits the then Colonel Fury to take on the role of Director of S.H.I.E.L.D. to battle the evil forces of Hydra. This takes place in Strange Tales issue #135 and is covered in Walt's Undervalued Spotlight #54. Take the time to re-read that pick and Walt's observations and see how much of it has come true. Prices on that book have almost doubled in Overstreet since that post. OK enough schmoozing for Walt.
The cover on issue #4 is by Jim Steranko and features a bone white cover, with a stylized black and white collage of art laid over the white background. There is an action shot of Nick Fury in the foreground and bullet holes all over the logo. I love it. I'm no artist, but this work must be admired by his fellow artists as it has been "swiped" at least 4 times that I could find (Iron Man #15 Vol.4, Wolverine #27 Vol.3, Marvel Zombies #4 Vol.2, and Super Soldiers #6) and there are probably more. I should point out that Jim Steranko also borrowed from other artists. Nick Fury #3 pays homage to DC's Detective #31 cover (note the cute little shadowy batman figure in the bottom left hand corner) and Nick Fury #7 is a clear Salvador Dali swipe; all good stuff.
The story in Nick Fury #4 is an expanded re-telling of the origin of Nick Fury and Shield from Strange Tales #135 and is written by Roy Thomas. A really solid, well told story and I must confess again to being a sucker for "origin" books. This book is also about 25% of the cost of Strange Tales #135 and it's all Nick Fury. Bargain.
Part two of our spotlight is on Nick Fury Agent of S.H.I.E.L.D #5 Oct. 1968. Cover, interior art, and written by Jim Steranko. This is the last complete story of Nick Fury done by Jim Steranko on this title. The cover is, again, terrific; a bone white cover with colourful psychedelic artwork. It is noted as a "Classic cover" in Overstreet. The interior work is typical Steranko full of colour, black and white images, one and two page splash pages, psychedelic artwork; the works. You definitely get your money's worth – especially when it was only $0.12 at the time!
The story "What Ever Happened to Scorpio?" is well done. It focuses on the identity of the man/villain Scorpio. You don't find out who he is in the book, but you can guess. His identity is confirmed later in an Avengers appearance (#60?) as Jacob Fury, Nick's brother. Sadly this book is not about the beginning of a new era of greatness for Nick Fury and Shield but the end of it. Jim Steranko leaves the book in terms of writing and only provides a couple more great covers for issues #6 & 7. The Nick Fury title becomes like the early 1960s X-Men. It flounders and loses direction with a succession of artists and writers and finally succumbs after issue #15. The title has three reprint issues and then dies at #18.
Reasons to pick up these Nick Fury issues include;
The Nick Fury character has become a fixture in the Marvel universe of movies and is likely going to get more positive exposure in the future. I know this is not the same Nick Fury, but if you develop an interest in a character chances are you will want to go back and read more about the history and origin of it.
"Agents of S.H.I.E.L.D." will be a new Joss Whedon TV series out this fall and I expect this will also garner more positive interest in these books – maybe even more than Nick Fury himself.
The whole Jim Steranko run of Nick Fury/Shield Issues #1 thru #7 are Sub-Mariner cheap books. For now. What makes both of these books difficult to find in grade are the tough white covers. There is a lot of tanning that takes place on most of the copies I see. I like a nice tight 9.2 white copy with white pages in this space, for a solid addition to your comic collection, with lots of room to grow price wise.
Nick Fury is still surviving as a character despite once being portrayed by David Hasselloff.
The 43rd edition of the Overstreet Comic Book Price Guide shows $49/$92/$135 as the 8.0/9.0/9.2 price splits for issue #4 and $52/$99/$145 as the 8.0/9.0/9.2 price splits for issue #5.
Strengths that make this comic book a good long-term investment are:
Tough white covers make high grade issues highly coveted
Fury has survived the Hof!!
Classic Steranko art with especially appealing covers
Cheap, for now!