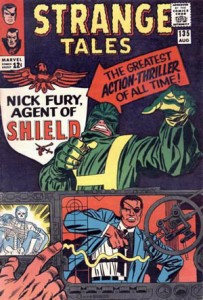 Strange Tales #135, Marvel Comics, August 1965
In the summer of 1965 spies were still all the rage. Thunderball, the 4th James Bond film was even more popular than the first 3 (Dr. No, From Russia with Love and Goldfinger for those of you counting). The Man from U.N.C.L.E. was a T.V. hit and the Cold War was still raging. Marvel had over a year earlier noticed this demand for spies and introduced the Black Widow (Tales of Suspense #52 – covered here on Undervalued Spotlight #8 Stan).
Stan Lee and Jack Kirby were in their Midas years in the mid 1960s and were making all kinds of very good decisions. Their decision to turn Sgt. Fury into Nick Fury, Agent of S.H.I.E.L.D. and introduce him to the world in Strange Tales #135 was a just another of those good decisions. I should note that Sgt. Fury was promoted to Colonel and acted as a C.I.A. agent in an earlier issue of the Fantastic Four (Fantastic Four #21, December 1963) but that issue merely segues to S.H.I.E.L.D.
Nick Fury enjoyed great success in his Strange Tales run especially during the experimental Jim Steranko years. Steranko's creative style pushed the boundaries of sequential art and storytelling to new heights, just check out Strange Tales #154 to #162 to see what I mean.
Nick Fury got his own title in 1968, Nick Fury Agent of SHIELD lasted only 15 issues (plus 3 reprint issues). In the early 1970s Nick Fury made a few guest appearances in titles like the Avengers but the magic of spies had worn off, Nick Fury came in from the cold.
Fans had to wait until 1988 for a new Nick Fury and SHIELD story. I personally think Fury never really hit his modern day stride until the 2003's 1602 mini-series. In 1602 (a non continuity story) Sir Nick Fury was Queen Elizabeth's chief of intelligence. Fury's presence in the series contributed greatly to the series' success. Marvel would again use Nick Fury wisely in their very popular 2008 mini-series Secret Invasion.
Today Nick Fury is safely in the thick of the Marvel Universe and his position in the fold will only get stronger as he'll be very prominent in many upcoming Marvel projects (comics and film). It is a great time to pick up an investment grade copy of his first appearance (I'd consider a CGC 9.0 or better to be investment grade for this comic book).
The Overstreet Price Guide shows $129/$252/$375 as the splits at the 8.0/9.0/9.2 grades.
Strengths that make this comic book a good long term investment are: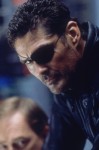 – Origin and 1st appearance of  a very strong fictional character
– Written and drawn by Stan Lee and Jack Kirby
– Nick Fury is positioned to be an important part of the Marvel U
– Nick Fury was played by The Hoff, David Hasselhoff, in a 1998 made for T.V. movie and still survived as a character!!
Walter Durajlija is an Overstreet Advisor and Shuster Award winner. He owns Big B Comics in Hamilton, Ontario, Canada