West Coast Blues is the first book resulting from Fantagraphics' recently announced commitment to bring more work from French new wave creator Jacques Tardi. Tardi has long been one of the most highly regarded artists in Europe, Art Spiegelman
writer/artist of the award-winning Maus, has heaped numerous praises on him calling him "one of the single most influential comix artists to come out of the French adult comics revolution of the 70's." Some critics have gone so far as to refer to his work 'The Bloody Streets of Paris' as "the Citizen Kane of comics."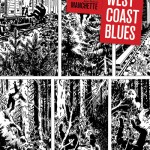 West Coast Blues, adapted from the book by master crime novelist Jean-Patrick Manchette, Tardi presents us with a a story about George Gerfault, a seemingly normal guy living a pretty average existence, an aimless family man who is sucked into a cycle of violence involving a war criminal and assassins. Tardi's work here is very much in the style of new-wave filmmakers like Francois Truffaut and Jean-Luc Goddard utilizing various different literary tricks (such as an omniscent narrator to espouse information that undermines and juxtaposes action and dialog.)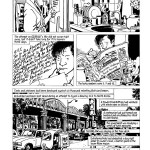 The art is, as always, top notch, Tardi uses a 'dirtier' clean line style (think a less crisp, more kinetic version of Tintin's Herge). Tardi's character work is very cartoonish, eyes are two dots and actions are large and animated, it's the backgrounds that are really a sight to behold – photo realistic world that these characters interact, live and (in West Coast Blues case) commit violent acts.
For those of you out there that are looking for something a little different, or are looking to expand on your crime shelf, I'd strongly recommend adding West Coast Blues.
For those of you who want to experience this first hand; here's Fantagraphic's ten page preview.
Pete DeCourcy is an avid fan of crime comics. He has a tumblr devoted to all things seedy underbelly at The Simple Art of Crime.