At no point did I ever imagine writing a CD review for Comic Book Daily, yet here it is.  I received The Music Of DC Comics: 75th Anniversary Collection in the mail via Sony Music.  It's a collection of 31 theme songs and opening audio from DC's cartoon, television show and movie library.  Here's the publisher's blurb: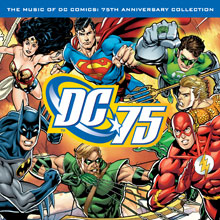 [quote]It starts in 1941, with the theme to the classic Fleischer Superman cartoons and moves through the years, including shows and movies like BATMAN, THE NEW ADVENTURES OF SUPERMAN, LOIS & CLARK, BATMAN BEYOND, SMALLVILLE, THE BATMAN and a ton more, all on one compact disc – with 21 of the 31 tracks available for the first time ever. This collection is a must-buy for any fan of DC Comics and it's various television, film and cartoon interpretations.
Tracklist
Superman March (1941) – Sammy Timberg
Theme From Superman (Album Version) (1978) – John Williams
The New Adventures of Superman (1966) – John Gart
Lois and Clark / The New Adventures of Superman (1993) – Jay Gruska
The Adventures of Superboy (1966) – John Gart
Superboy (1988) – Kevin Kiner
Smallville Season 8 (End Title) (2008) – Louis Febre
Batman: The Electrical Brain (1943) – Lee Zahler
The Batman Theme (Album Version) (1989) – Danny Elfman
The Adventures of Batman (1967) – John Gart
Batman TV Series Theme (1966) – Neal Hefti
Batman: The Brave and the Bold Theme (2008) – Andy Sturmer
Batman Beyond (Main Title) (1999) – Kristopher Carter
Molossus from Batman Begins (2005) – Hans Zimmer & James Newton Howard
Justice League of America (1967) – John Gart
Super Friends (1973) – Hoyt Curtin
The All New Super Friends Hour (1977) – Hoyt Curtin
Justice League Unlimited Theme (2004) – Michael McCuistion
Legends of the Superheroes (1979) – Fred Werner
The Teen Titans (1967) – John Gart
Aquaman (1967) – John Gart
Swamp Thing (1991) – Christopher Stone
Shazam (1974) – Jeff Michael & Yvette H. Blais
The Flash (1967) – John Gart
Green Lantern (1967) – John Gart
Green Lantern First Flight (2009) – Robert J Kral
The Atom (1967) – John Gart
Hawkman (1967) – John Gart
Plastic Man Comedy Adventure Show (1979) – Dean Elliott
Wonder Woman The Animated Movie End Title (2009) – Christopher Drake
Wonder Woman (1975) – Charles Fox & Norman Gimbel[/quote]
As you can see it's a massive collection filled with DC television memories.  I was surprised by the items I've never heard: didn't realize the depth of animated features DC produced in the 1960s and 70s.  Quality varies by track, the older items having some hiss that doesn't detract from the listening.  Without it we wouldn't be as immersed in the recordings.  This CD is a full trip of nostalgia.
The Music Of DC Comics: 75th Anniversary Collection
WaterTower Music and Sony Classical, 2010