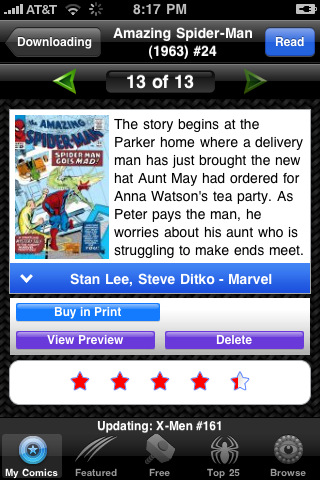 As many of you know I am a big fan of digital comics. Or rather, I am a big fan of Marvel 's digital unlimited service. For a mere $60 per year I have unlimited access to over 8000 comic books (older than 6 months) and I can view as many as often as I wish. I view said comics books on the internet from my computer and I do not download anything. This is a tremendous value and I encourage all to try it out. Marvel also offers newer comic books for $2-3 each, which must be purchased individually.
While doing research for this article I also checked out the DC Digital and the Dark Horse Digital. DC offers their comics at $2 or $3 each (same as newsstand) with regular sales bringing down books to $0.99 each. Dark Horse keeps the $4 or $3 cover price and its sales involve bundling books or trades (Lone Wolf and Cub for $5) at a lower price.
All 3 companies use an online reader so to be able to enjoy the glory of digital comic books you need a device with internet access and flash. So you don't really "own" a copy but you are purchasing the right to read it whenever you like.
I talked with our fearless EiC about tablets and what is the deal with Apple's hatred of Flash. The moral of the story is Flash is old tech and eventually HTML 5 will become standard. I am not going to explain any of this further (that is what Wikipedia is for) but right now I cannot enjoy my Marvel Unlimited on an iPad. Single issues can be purchased and read from the iPad by downloading a publishers app.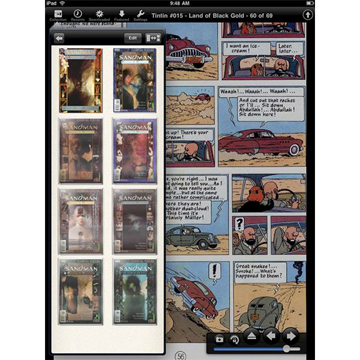 This bring me to my main point. Digital comics should not  replace hard copies completely. They should be enjoyed in addition to hard copies. The actual hard copy comic books are expensive for hourly entertainment, are quite heavy when dumped in a box with hundreds of their brethren, and take up a lot of space (unless you have a super-disturbing man cave like Ed). I collect my hard copy comic books of some series and enjoy others online.
The problem for me is the price point that companies are setting for single issues. I am not getting anything concrete. I am purchasing the right to view comics via the internet (which I must pay for myself) so in no way should digital comics cost the same as the hard copy. Companies should offer an unlimited service for comics older than 1 year. Then they should have a $0.99 price point for everything else. As iTunes will tell you $0.99 hits add up over time.
The publishing companies should also allow brick and mortar shops to sell unlimited subscriptions. In addition, brick and mortar shops should sell plastic money cards so customers can add funds to their digital account. Everybody wins.
Reading comic books digitally causes you to buy more comic books. Retailers and publishers need to get together on this; cut out Diamond. There does not need to be a middle man involved. Diamond won the lottery by being the only distributor of comic book related goods; they don't need to have their fingers in every pie.
I encourage all of CBD's readers to go online and check out some of the free books the publishers have for viewing. It will give you a sense of what to expect while enjoying the digital revolution. However, please keep an open mind and stop telling me that to you a comic book needs to be read in your hand. You will read more comic books if you embrace digital as well as print. Digital comics aren't about killing print; they are about spreading the medium to a wider audience.