I just added two new trade paperbacks to my collection and they were very enjoyable to read.  These books are Zatanna: Mistress of Magic and Zatanna: Shades of the Past.  These two books collect all 16 issues of Zatanna from DC comics that were released in 2010 to 2011.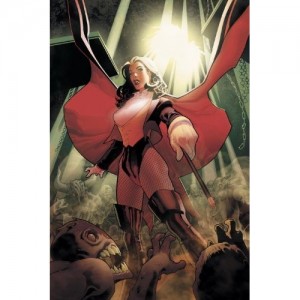 Zatanna is the daughter of legendary magician John Zatara.  She is also a member of the Justice League.  When she isn't helping the Justice League save the world, she is a famous and popular stage magician.  She plays shows all over the world, for packed theatres of adoring fans.  Zatanna is no stranger to danger though.  When she needs to she will jump into action when she is needed.
The bulk of the action takes place in San Francisco, which Zatanna calls a magical place to begin with.  She still has the mansion in Gotham City, but she decides to make her new residence her family mansion in the city by the bay.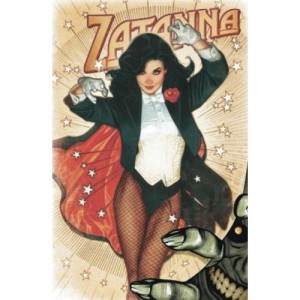 Some of Zatanna's adversaries include the cult leader Brother Night, the dream demon Fuseli and the possessed marionette "Stringleshanks", who in actuality was a puppet master who tried to kill Zaranna as a child.
Her allies in her daily life are her cousin Zach Zatara, her stage manager Mikey and Dale Colton a S.F.P.D. detective who meets Zatanna and could become a possible love interest for our magician.
Some of the adventures Zatanna gets into include battling the evil Brother Night, saving her cousin from an evil Succubus at a night club, stopping a "Rat Pack" inspired gange from robbing a casino in Las Vegas, trying to regain her human form after becoming a puppet, being hunted by a group of hunters of the occult and a confrontation with a Hip-Hop villain called Backslash who can rewind time.
This series for Zatanna shows that she is much more than a beautiful magician in fishnets.  Many times she has to defend herself physically and one flashback shows her father, Zatara, taking her to get martial arts lessons so she can defend herself.  Many times those skills come in handy for Zatanna.  In one instance an arrow cuts her throat and she can't speak.  Without the aid of her magic, Zatanna has to use her martial arts skills to get out of the bind.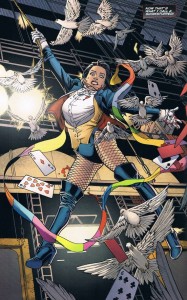 The stories are not all action.  We do get to see Zatanna in her normal life on and off the stage.  There is one instance where Zatanna had a dress rehearsal for her show that takes 12 hours.  There is another time when she is walking around San Francisco talking about all the magical places in "San Fran".
We get some insight into Zatanna's life when her cousin Zach takes her to a dance club and she protests.  He asks her if she prefers staying home curled up under a blanket reading a book.  Later Zatanna reminds herself that she has to burn that book and blanket, to try to shake things up in her life.  We don't get to see our heroes personal lives in comic books anymore.  The focus seems to be on conflict now.  I guess the day-to-day life of a superhero isn't compelling to read.
The bulk of Zatanna's 16 issues were written by Paul Dini.  Paul is a great writer of strong female characters.  His stories have great flow to them and are very easy to read.  He is married to a magician, so that may give him an inside track into the life of a magician.
Some of the other writers on the series are Adam Beechen and Matthew Sturges.
The art was done by Cliff Chiang, Stephane Roux and Chad Hardin to name a few.  Included in the trades are the covers to the comics, with some amazing covers done by Adam Hughes.  The art style is consitant throughout the series.  Only a couple of issues feature a different art style.  Zatanna is drawn beautifully with several pin-up style pages.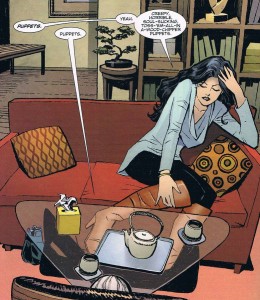 I thoroughly enjoyed reading Volume 1 and 2 of the Zatanna trade paperbacks.  It is a great series with lots of "re-read" value.  It is unfortunate that the Zatanna series had to end with DC's New 52.  The stories were not affected by the DC universe.  Zatanna could've easily carried on within the new 52 Universe, but hopefully it will continue some day.  It was also unfortunate the series ended after 16 issues because there was potential for a new story arc involving Dale Colton.  On the final page on issue 13 it is revealed who his father is.  This would have made an amazing story arc for Zatanna, Colton and his father.  It is a shame that story could never be told.
Zatanna: Mistress of Magic and Zatanna: Shades of the Past are must reads for anybody who likes the character Zatanna, or if you are interested in reading all about magic, sorcery and the occult.