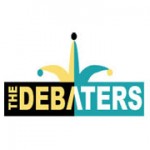 A very funny episode of CBC Radio's The Debaters features Pat Thorton and comedian David Pryde arguing their case as to whether comic book movies are worth seeing.
Fun stuff, great puns and very entertaining.
Unfortunately the CBC only gives us a 2 minute excerpt. If you want the whole episode you have to shell out $1.99 on iTunes. I thought the CBC was funded by our tax dollars??  Double dippers!!
Here's the link.
http://www.cbc.ca/thedebaters/episode/2011/10/14/sat-oct-15—bachelor-parties-comic-book-movies-605/