Release date set at July 3, 2012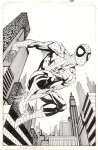 Not to long ago comicbookdaily.com reported that the Spider-Man 4 movie was no more, that Sam Raimi and Tobey Maguire were history and that Sony was looking for a fresh start with the franchise.
Yesterday Sony announced that it will release its 4th Spider-Man movie on July 3, 2012. Better yet, Sony has announced that the movie will be presented in 3-D (I wonder if Avatar had anything to do with this).
So far talk is that the film will be based on Brian Michael Bendis' Ultimate Spider-Man storyline which sets things back to Peter Parker in high school. The Ultimate Spider-Man was a huge success for Marvel when it launched back in 2000. It should make for great movie viewing, oh, and I can't wait for Spidey to shoot a web right at me!
Now the fun task of picking a new Spidey begins!