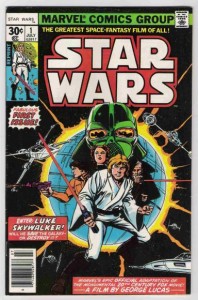 I was poking around the auction sites and noticed some very sporadic activity around the Star Wars #1 comic book.
The regular edition (30 cent cover) of Star Wars #1 is a very popular book. The thing is also as common as sand. The CGC graded numbers alone are staggering; as of this post there are 471 copies graded at 9.6 and an impressive 108 graded at 9.8. The last 9.6 sold on eBay for $110.00 via the 'Best Offer' option back on September 25th. That's not bad considering the Overstreet Price Guide value for a 9.2 copy is $95.00. The 9.6 copies have surprisingly held their value for a long time. According to GPAnalysis the 2008 average price for a 9.6 copy was $145.00, the average fell to $132.00 in 2009. The past 90 day trend shows this average has actually gone up to $134.00. It's hard to read this last sale at $110.00, it may be an anomaly it may be a trend. At $110 the book is selling at 76% of its 2008 average.
In contrast CGC 9.8 copies of Star Wars #1 were trading for $617.00 in 2008. The last recorded sale only fetched $340.00 or only 55% of its 2008 average. I read this data as showing that there are a lot of true Star Wars fans out there willing to pick up a very high grade copy of this book perhaps as a part of a larger Star Wars memorabilia collection. The more severe drop in the 9.8 values is more consistent with the speculative crash that associates an increase in supply of something once considered much scarcer.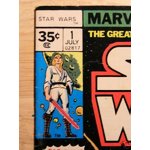 The Star Wars comic that everyone really wants though is the 35 cent variant cover of #1. The highest graded copy is a 9.6 and only one exists as of this post. There are only 5 graded at 9.4, 5 graded at 9.2 and 11 graded at 9.0.
There is no GPAnalysis data on past sales of the 9.6. The book was graded in mid 2009 so I'll assume it has not sold on market yet. Someone though is trying to sell it as of this post and in a very big way.
Star Wars #1 35 cent variant was listed for sale on eBay with an asking price of $30,500.01 (with a Buy it Now of a mere $75,500.00). The listing expired with no takers on September 22nd. This same copy is listed again on eBay this time with a starting bid of $29,999.99 (that's a huge 1.6% reduction). The seller has been a bit more prudent and has gone with the 'Make an Offer' option this time around.
Is the seller's asking price too high? Who knows? The seller has obviously been buoyed by 2 recent results. The first being the 2009 sale of a 9.4 copy for $10,000.00 and the second being the almost too good to be true $5,000.00 received for a 9.0 copy as recently as September 20th 2010 (sold through the Best Offer option).
But wait. A second CGC 9.0 was listed on the heels of this $5,000.00 copy and it sold for a seemingly disappointing $2,800.00 on September 30th, 2010. Pretty severe drop but three things are in play here. First, the $5,000.00 copy had White pages; the $2,800.00 copy had Off White to White. Second, the first out of the block usually gets the best price. Third, the first seller had a stellar 100% feedback over 1350 transactions while the second seller had only 11 feedbacks. If anything I'm sure the $2,800.00 copy was helped by the result of the 1st auction.
But wait again. Another 9.0 copy of the 35 cent variant has just been listed for sale at $4,000.00. Upon closer inspection this newest listing belongs to the same seller that sold the $5,000.00 copy and the CGC serial # is the same! I can only assume that the buyer ended up balking at paying $5,000 for a book that sold for about half that not even a week later. I could be wrong, but it does look this way.
This is crazy stuff!
So again, should the 9.6 up on eBay right now get $30,000.00? Will the turmoil happening down in the 9.0s help or hurt?
Looking at the 30 cent editions and seeing the second highest graded copies fetching a third of the amounts paid for the highest graded copies ($110 vs $340)  you'd think $30,000.00 is attainable especially since it is the only one out there (remember a 9.4 sold for $10,000). Even the ratio of scarcity is about 5 to 1 for the 30 centers and 5 to 1 for the 35 centers. Considering all this $30,000 does not seem too far fetched.
Oh and by the way, the last CGC 9.0 30 cent edition sold for $21 back in May.