ComicLink May 2011 Featured Auction
The ComicLink May Featured Auction has just ended. Of the top 50 sales 35 were Timely/Marvel while 13 were DC and there was also the Holy Grail of underground comics Zap #1 (a CGC 9.6 sold for $18,100.00) and there was a Warren Magazine Vamperella #1 (a CGC 9.8 sold for $16,727.00).
Of the top 50 sales 11 were Golden Age comics and boy were there heavy hitters available. Batman #1, Captain America #1, Marvel Comics #1, Flash Comics #1 and Detective Comics #28 were some of the Golden Age highlights that sold.
I've chosen comment on several results that were of interest to me. Here we go.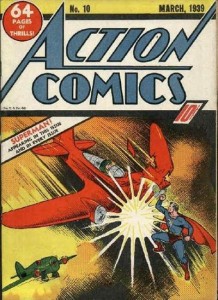 Action Comics #10, DC Comics, (March/1939) Graded by CGC at 3.0 with Cream to Off White pages sold for $20,351.00 on ComicLink on May 24th. Overstreet price guide value for this comic at 3.0 is $4,909.00.
Only 11 unrestored Universal CGC graded copies exist of this book and the highest grade is a CGC 7.0! The third Superman cover is the next, next best thing for those unable to afford solid copies of Action #1 and Action #7 (2nd Superman cover). So the guide seems out of whack here does it not? Any time a low grade copy of a comic gets over 4 times guide its time to reassess. The thing with books like these is that hardly any ever make market (the GPA tracking site only has a record of 2 Universal graded copies trading in the last 10 years) and their sales results can fluctuate wildly from one sale to the next. I'm going to take a firm stance and say that $20 K is too much to pay for a low grade 10th appearance of Superman (in Action Comics).
Action Comics #1 is safe but subsequent Superman issues will slowly loose their draw over time as the character gets slowly pushed down the relevance list. Advantage Seller.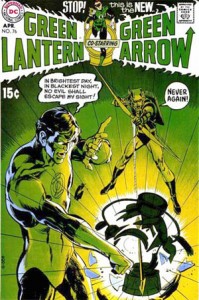 Green Lantern #76, DC Comics (April/1970) Graded by CGC at 9.8 with Off White to White pages sold for $15,750.00 on ComicLink on May 25th. Overstreet price guide value for this comic at 9.2 is $2,000.00.
This is a very disappointing result for this comic book since the last CGC 9.8 fetched $37,000.00 only a year ago. A major and much needed correction is taking place with this comic, a CGC 9.6 within this same auction sold for over $10,000.00 but a CGC 9.6 once sold for $30,000. It's a great book to have but a little patience will get you one of these nice grades for a lot less than you ever would have thought. Is Green Lantern #76 as important a comic as Incredible Hulk #181 (1st Wolverine)? Probably not but its stature has risen over the years. It has a lot of supporters placing it as the key and true launch of the Bronze Age. Hulk 181s consistently trade in the $15 K range and there are 40 of them with a 9.9 looming large overhead! There are only 2 CGC 9.8s for Green Lantern #76.
I don't see the book falling much lower and the buyer has some strong bragging rights. True scarcity in grade and importance of book should keep it safely within this sales range. Advantage Buyer.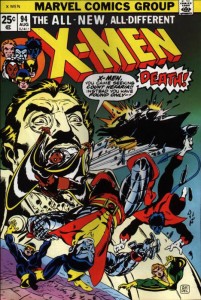 X-Men #94, Marvel Comics (AAugust/1975) Graded by CGC at 9.8 with Off White to White pages sold on ComicLink for $10,000.00 on May 26th. Overstreet price guide value for this comic at 9.2 is $1,200.00.
Here is a super classic example of why we should not rush into buying up the first high grade copies of relatively modern comic books. We (Big B Comics) were lucky to get a CGC 9.8 copy of this book early last year. We saw that a copy has sold for $29,589.00 just a few months before and we were debating what to do with the book keep it as an investment or let it go. I believe ours was only the 5th graded 9.8 so the scarcity was still there but I knew the crazy $29+ K result would get collectors digging out their nice copies and submitting them (after a trip to the dry cleaners of course). We decided to sell it and posted it on ComicConnect. To our surprise the book fetched $26,500.00, we were elated.
Subsequent sales were $20,200.00, $16,700.00, $12,500 and now $10,000. There have been 3 more CGC 9.8s added to the census and each new one has driven the price of the book down.
Sometimes its hard to predict the future but when it comes to assuming there are more really nice copies of mid 1970s books out there still ungraded it really isn't that hard at all. I was talking about this 2 years ago.
Playing the paying the premium game because it's so scarce at this grade is risky even when dealing with comics like Amazing Fantasy #15. I know a CGC 9.6 recently sold for over $1 million but I'm just wondering whether that buyer logs into CGC each morning holding his breath while the census figures load. Advantage Seller.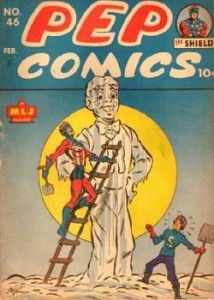 Pep Comics #46, MLJ Pub. (February/1944) Graded by CGC at 8.0 with Cream to Off White pages sold for $3,443.00 on ComicLink on Mayy 25th. Overstreet price guide value for this comic at 8.0 is $371.00.
Just a few short years ago you couldn't give these books away. I remember I had a solid copy of Archie #20 and the thing just sat until I through it into a half price box. But again mine wasn't the highest graded copy, heck it wasn't graded at all.
The grade on its own is nice but certainly not spectacular, the page quality is on the poorer side and nothing much important happens in what is just a basic run book. So why almost 10 times guide? All things Archie are hot these days, not many early Archie books are making market coupled with this being the nicest copy known to date created a perfect little storm.
There are a lot of old Archie books out there. The guy that may have looked in the Guide and figured his $370 comic may not be worth getting graded is going to start thinking differently. Advantage Seller.
Another interesting ComicLink auction. I like some of the corrections I'm seeing.