Comic Link Winter Featured Auction
The comic book portion of ComicLink's Winter Featured Auction ended Wednesday February 24th and there were some noteworthy results.
The book that took top spot was a CGC 2.0 Action Comics #7, it earned an impressive $71,000. Second up was a CGC 6.5 All Star #8. I'd normally have a bone to pick with these results. Why should a CGC 2.0 7th appearance of Superman, 2nd Superman cover be worth more than a CGC 6.5 1st appearance of Wonder Woman? Is this the old boys club at work? There are 15 better graded Action #7s while there are only 10 better graded All Star #8s. The reason I'll let it go this time is those darned Brittle Pages, nobody likes Brittle Pages.
Here are some top 50 tidbits:
I counted 18 Golden Age books, and the GA books took the top two spots
There were 25 Silver Age Marvel's
13 of those SA Marvels were Marvel Keys
1 Modern Age – a CGC 9.9 New Mutants #98 – this seems to be the perennial 9.9 that always breaks into the top 50
There was nice tight TMNT #1 at CGC 9.8, fetched $20,000
Spider-Man showed up 9 times, the Hulk showed up 8
Let's look at a few OK now to some results.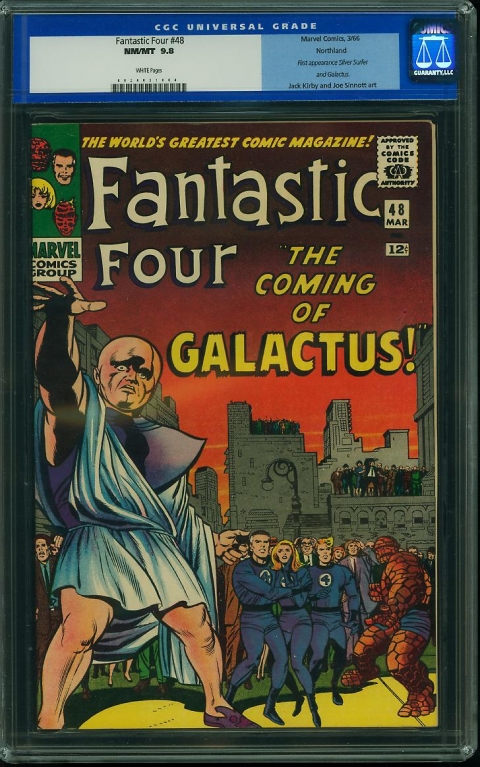 Fantastic Four #48, Marvel Comics, March 1966 Graded by CGC at 9.8 with White pages sold for $17,027.00.
It's easy to point to the recent price realized by a CGC 9.8 FF #52 (over $83,000) and cry foul but I think it all comes down to supply and demand. The demand for #52 is experiencing a severe boost thanks to all the spec around the upcoming Black Panther movies and cameos and the supply of FF #52 is way tighter at only 4 CGC 9.8 copies on the census, compare that with FF #48's 29 copies at 9.8.
All that said this book fetched marginally less than the last copy that sold a few months back. Basically the pool of top tier #48s is limited to 29 copies as of this sale, this copies White pages and the carrot that is the old CGC label will put this copy near the top of the heap. Scarcity of grade is delivered when you factor where this most likely sits within the grade.
Advantage Buyer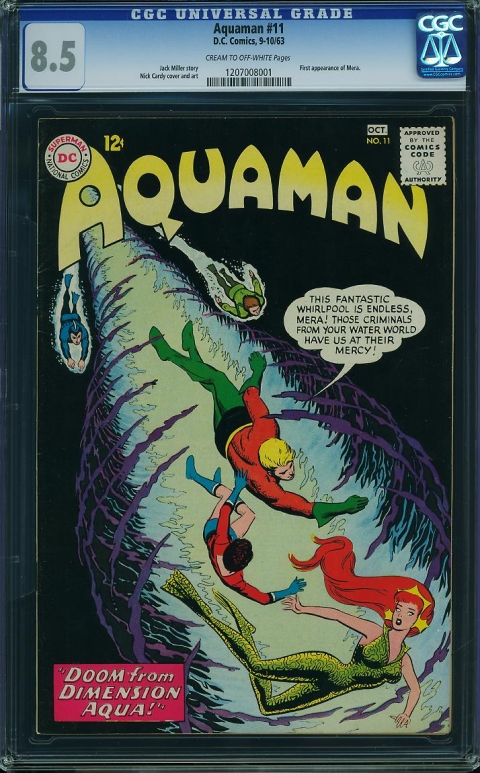 Aquaman 11, DC Comics, September/October 1963 Graded by CGC at 8.5 with Cream to Off White to White pages sold for $1,149.00.
It's like I'm at home. Nobody listens to me there either. We can't be paying this much for books that have just recently heated up. The supply pipeline via CGC takes a long time and paying this much for a CGC 8.5 DC from late 1963 seems reactionary. Of the 41 graded copies there are 4 better on the census right now, I bet you there will be 41 better soon enough.
To test my math I had a peek at Aquaman #1, there are 418 on the CGC census, so 10 times the supply – above 8.5 there are 39 copies so I think I've put in a good projection.
At the end of the day it will depend on Mera. The book will go how Mera goes so lets hope.
Advantage Seller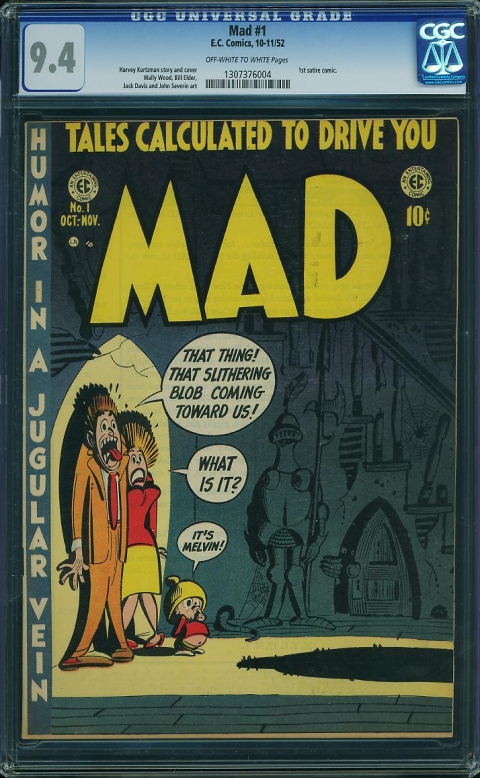 Mad #1, EC Comics, October/November 19520 Graded by CGC at 9.4 with Off White to White pages sold for $8,778.00.                                               
The last time a CGC 9.4 sold and was traced it got $12,000 so this must be a disappointing result for the seller. I like Mad #1, I think Mad Magazine has a good enough track record to secure itself as a notable pop culture phenomenon of the second half of the 20th century. There are only 7 copies graded higher than this one.
Advantage Buyer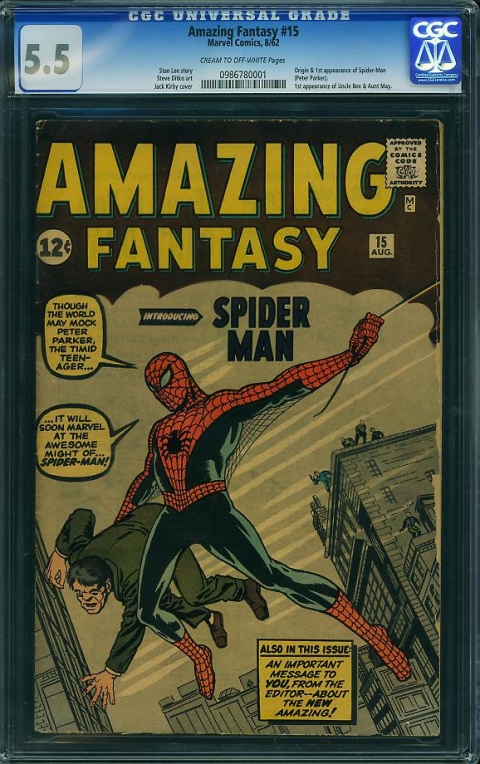 Amazing Fantasy #15, Marvel Comics, August 1962 Graded by CGC at 5.5 with Cream to Off White pages sold for $20,055.00.
There's been lots of talk about this result. I think it's a one off. Looking at how well CGC 5.0s are doing and how much the last CGC 6.0 got (over $38,000). There may have been Momentary Fantasy Fatigue or as I like to call it mff. I think this is a good pick up for the buyer and a bit of bad timing for the seller.
Advantage Buyer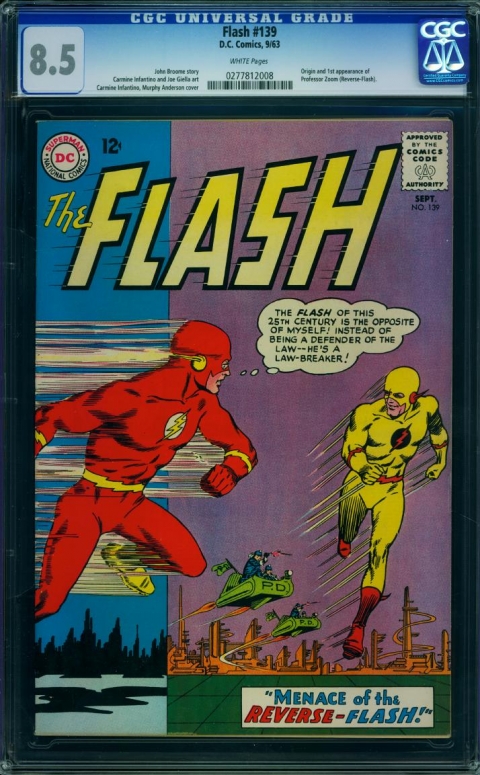 Flash #139, DC Comics, September 1963 Graded by CGC at 8.5 with White pages sold for $2,789.00.
A copy in this grade recently sold for $1,225 so this result caught me by surprise. I respect Flash books from this era but I don't think the 8.5 grade should be strong enough to support this price. There are 23 copies better already and there is only 263 graded and that's not because there are non around.
Advantage Seller
So? Anybody score anything?