Scott started up the Auction Spotlight recently. He'll cover one random art auction result a week and I'll cover a random comic result. I'll still do a full Auction Highlights when a big auction takes place.
I found this result on eBay, it closed yesterday March 29th.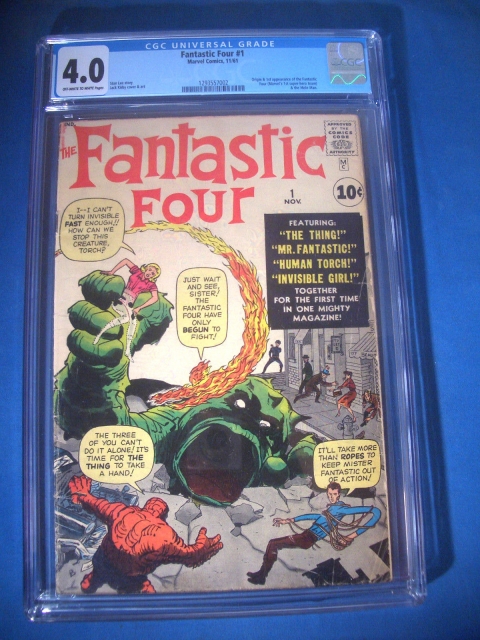 Fantastic Four #1 from Marvel Comics, November 1961. A CGC 4.0 copy with Off White to White pages sold for $4,750.
I believe Fantastic Four #1 is poised for some long overdue appreciation. The Fantastic Four have suffered from some very blatant neglect. Marvel is doing nothing with their once flagship title. Fox is doing worse than nothing with their crap movies. I think we'll see Marvel get to do a Fantastic Four movie like they are getting to do a Spider-Man movie right now. I think when the Marvel FF movie project eventually gets announced you'll see the FF back on the new this week stands at your local comic book shops. I also think the Fantastic Four concept works and can work for today's comic readers, this property should still be able to attract new fans.
On the GPA there was a February sale for $5,378 so this seems even  ore a bargain, I better start looking at eBay more often.
Advantage Buyer.