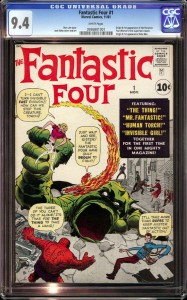 This is great news!
A gorgeous (check the pic) CGC graded 9.4 with White Pages copy of Fantastic Four #1 has been sold by Metropolis Comics for $300,000.00.
I think Fantastic Four #1 is the most important Marvel ever published and I'll argue that it's the second most important superhero book ever published (behind Action Comics #1).
FF #1 has always been a tough comic to find in very high grade. A quick look at the CGC census shows only 4 graded at 9.4 and 1 at 9.6. The 9.6 copy traded in 2008 for a cash/trade deal valued at $450,000.00 but I'm sure it would threaten the million mark if it went to auction today. These 5 comics represent a tiny three quarters of one percent (0.76%) of the 657 Universal graded CGC copies on the census.
Legends Stan Lee and Jack Kirby published FF #1 in November 1961. It's interesting to note the 10 cent cover price. Only 3 Marvel hero comics have a 10 cent cover, FF #1, FF #2 and Tales to Astonish #27 (1st Ant-Man).
The high end vintage comic market is absolutely scorching hot right now!