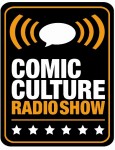 It's a fun filled show this week as hosts Chris Owen and Walter Durajlija are joined by Comic Culture regulars Marty Birthelmer and James Harris. DC's Flashpoint #5 and the DC wide relaunch are discussed. The guys also touch on the success of the Thor movie, the new Tintin trailer, comic sales in April and a whole lot more. Now kick back, relax and enjoy  Comic Culture, the radio show full of possibilities.
Comic Culture is produced by Anthony Falcone and is engineered by James McIntosh.
Enjoy Comic Culture May 18th 2011 Edition.